Hobie Bream Series Report from Forster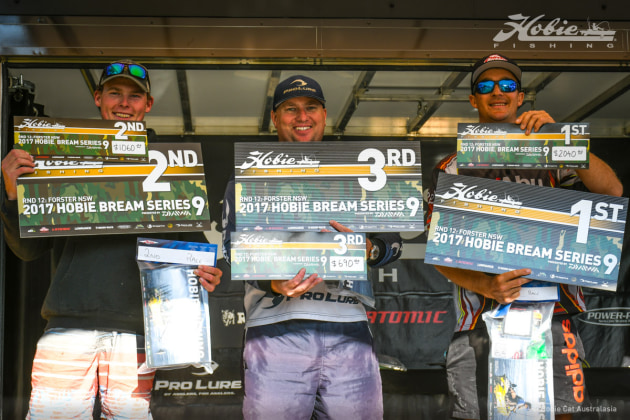 ON September 16-17, 72 anglers from Victoria, New South Wales, the Australian Capital Territory, Queensland, and China headed to Foster, NSW, to compete in the two-day Rhino-Rack Round 12 of Hobie Kayak Bream Series 9.
Pre-Fish Day on the Friday saw many anglers return to the event arena having pulled in solid bags, while a few found the conditions quite testing.
At the start of competition on Saturday and Sunday on a slight run-in tide, the Power-Pole Starting Line was set in front of the Secura Lifestyle Lakeside Forster Resort in idyllic conditions. The wind forecast was spot on, with light west-southwest winds each morning.
Russell Babekuhl from Wingham, NSW, took out the round, the last one of Hobie Kayak Bream Series 9 before the Australian Championship in November. Babekuhl was sitting in second position after day one just 200 g behind the leader. He briefly outlined his weekend fishing in and around the oyster racks of pristine Wallis Lake.
"During the weekend, I moved around regularly fishing fast from Breckinridge Channel all the way around Regatta Island and down the Tuncurry Channel".
"My plan was to crack a feeding pattern, then get away from the field as much as I could. Some of my go-to spots had anglers on them, however with the size of the waterway I was able to find some untouched water. I covered over 26 km each day and this decision paid off".
"Do the miles get the smiles".
Jack Gammie from Sydney, NSW, and the tournament leader at the close of day one, had a great weekend and almost pulled off the round win.
"Day one I made the 1 1/2-hour journey to the Big 4 caravan park, fishing oyster racks with light olive Cranka Crabs. I picked up 3 fish early and moved around the corner to land my Atomic Big Bream which finished my bag of 4 bream by 10am. The location slowed down so I moved to another area at the top of Cockatoo island where I upgraded two of my fish".
"Day 2 consisted of the same strategy, it worked, except I had to downsize my leaders and I began using Berkley Gulp Crabbies. The fish weren't as big (as day one), but having said that I also lost two good fish in the last hour".
"It was great weekend and one that will be remembered for some time".
Full results of the Forster event can be found HERE.
The next event is the Hobie Kayak Bream Series 9 Australian Championship in Mandurah, Western Australia from November 16 – 19.