Hobie Kayak Bream Series 9, Round 1 wrap: Marlo, Victoria
DAIWA Australia round one was a tough start to the season for all 75 anglers competing in Hobie Kayak Bream Series 9, which was contested over the January 22-23 weekend, at Marlo in Victoria.
A favourite on the Hobie Fishing calendar, Marlo has a reputation of delivering big fish, and once again, while the total catch numbers were down, the "Big Blacks" were there, just a lot tougher to catch. Full bags were scarce on both days with only four anglers catching six legals over the two days of the series opener.
Sitting in third place on day one Richard Somerton, from Melbourne in Victoria, snatched the top of the leaderboard from fellow Victorian, Bogdan Zisu, at the final weigh-in, with a day one bag of three fish for 2.27kg, and a day two bag of three fish for 2.22kg, giving him a total tournament winning weight of six fish for 4.49kg.
Somerton headed off second place finisher, Tony Pettie from Victoria, who moved up from his day one 4th position to finish with six for 4.20kg. Stephen Majera from Victoria rounded out the podium placings with five for 4.16kg.
Although, having previously won the 2014 Hobie Kayak Fishing World Championship, with a combined bag of fish from Victoria's Bemm River and Marlo, his 2017 Daiwa round one victory was Richard Somerton's first, stand alone, tournament win at Marlo, since he began competing in the Hobie Bream Series.
The current number two in the world, Somerton, pedalled a long way to reach a secret location that he has shared with only one or two others. Somerton can travel extremely quick in his Hobie Pro Angler 14, nevertheless, it still took him around 1hr 20min to reach his preferred destination for round one of the season.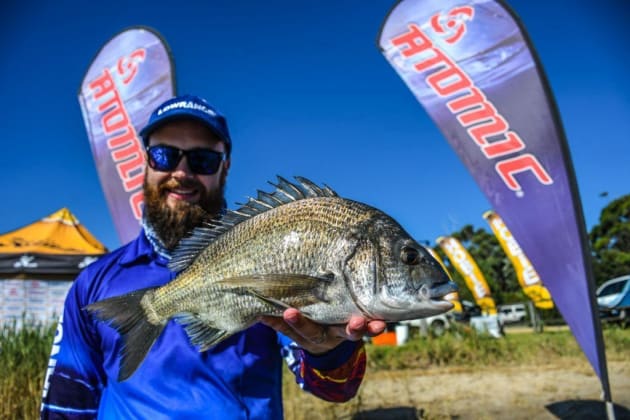 On day two, with the usual 7am to 2:30pm session time announced at the briefing, Somerton chose to lose nearly three hours of line in the water, and set off for the same location as day one.
"When I finally arrived, the bite was a little better than the day before. I targeted the surface bite with Cranka Shallow Minnows and I managed to get my bag of three reasonable bream in pretty good time," he said.
"I was quiet surprised how tough it was for everyone out there. I thought I might be in with a slim chance of getting near the top, but it was a really, big surprise to take out my first win at Marlo".
Chris Burbidge from Ferntree Gully in Victoria, who also represented Australia at Hobie Fishing Worlds 6, finishing 8th in the world, caught the first $100 Atomic Big Bream, of the 2017 season. The monster fish could possibly end up being the largest bream of the whole series, weighing a massive 1.72kg.
Check out the full results at hobiefishing.com.au
The next round on the Hobie Fishing Calendar is the Bemm River, Victoria on the 25th – 26th February.