Kayak versus Canoe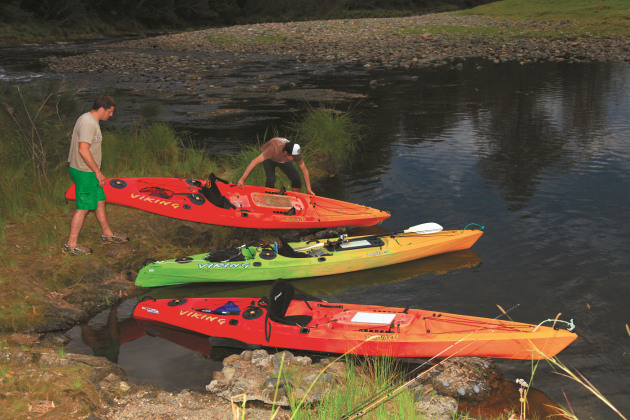 IT appears that Australians have finally figured out that kayak paddling is a very cool activity because I'm seeing more and more kayaks or canoes strapped to roof racks than ever before. 
That said, the prevalence of open or Canadian canoes has not kept pace with the rise in the popularity of kayaks, which is why I think a closer look at the kayak v canoe question is timely. In certain circumstances I choose a Canadian canoe over a kayak, every time.
Canoes and kayaks come in a wide range of styles and configurations and a corresponding range in price. You can get a brand-new cheapie for a few hundred dollars or you can spend thousands. Price is largely determined by the material from which the craft is made, but also by the accessories added to the hull. Materials play a huge part in determining what is best for you, as each has strengths and weaknesses that should be considered prior to purchase. The same goes for accessories. The issue is further confused by the range of styles available: open Canadian style canoe, traditional sit-in kayaks with skirt and the increasingly popular sit-on-top (SOT) style kayak.
I reckon that I'm qualified to discuss this question because I own both styles of these paddle-powered fishing platforms and have done since 1999. I regularly fish from both and have undertaken 40 – 50 paddle-powered fishing/camping trips. At present I have two Coleman Canadians: the 15' Ram X and their larger mothership canoe, the Scanoe. After purchasing a Viking Nemo 2 + 1, Viking have supplied me with a small Espri, an Offshore Profish 45 and their latest and greatest Profish GT.
Whilst my first ever cheque from fishing writing bought a swanky knife set for the loved-one, the next few were used to purchase the last new Coleman Scanoe in NSW, which as luck would have it, was 30 min away from home. It cost us $1495 (which was big bickies in 1999), and has provided hours and hours of fun. Youngsters and I chasing bass and jacks fishing over summer, lots and lots of barrel-laden camping adventures and hundreds of muddies later, it's still green and apart from me wearing a hole in the keel, which was welded over, is still going strong!
These days most of my canoe/kayak fishing is about bass, cod and jacks and the style of paddle craft varies according to where I'm going and how I'll be doing it; which when I think about it, are the two questions that will determine the most appropriate paddle craft for you. So, let's get started, get hold of some blank paper and a pencil and take notes as we go…
Materials
Fishing often involves structure. Rocks, submerged timber and oyster leases are hotspots, but all damage canoes, so I think anglers should stick to plastic and, in particular, high and medium density poly-ethylenes.
High-density polyethylene (HDPE), is a plastic that first came to my attention with Coleman's Scanoe and Ram-X models, but it is now found in a variety of quality canoes and kayaks. It is highly impact resistant and has an excellent memory which means it can take a beating and rebound back to its original shape when dented (within reason), a common event for anglers taking on rapids in rocky rivers. Further, it is a "greasy" plastic that slides across rocks without sticking, but it is damaged by prolonged exposure to the sun's UV rays. 
Medium-density polyethylene (MDPE) is the other option. It's a more economic material, but it lacks the rigidity of HDPE. This is overcome by its ability to be moulded into a greater variety of profiles than HDPE and given that it's a light plastic, thicker walls make for a rigid quality product. MDPE is the material used in many of the latest SOT kayaks. While it might not last as long as HDPE, the lower cost makes replacement an option if need be.
Location
Besides durability and weight, the other consideration to consider is where you plan to use your paddle craft; with the "where" being less about GPS co-ordinates and more about the type of location.
Waterways can be considered to be "open" or "enclosed" depending on exposure to wind and swell. Enclosed waters include sheltered bays, estuaries, lakes and rivers. In contrast, open waters include the open ocean and inshore bays and large rivers, estuaries and lakes, bodies of water that are large enough and exposed enough to become nasty in strong wind even if swell is never present. Large estuaries and lakes can turn into watery maelstroms when a strong wind rages across the water. Chop is short and steep and can get up past the metre mark on occasion; making small boating a dangerous affair, and canoeing a death sentence (at least figuratively if not worse).
If I'm heading onto open waters I'm be using a SOT kayak because, as the name suggests, these are like over-sized plastic bottles (with the lid attached), that has seating, foot and storage areas moulded into the shape. There's no open hull to fill with water, so heading through beach breaking waves or heavy chop is not a problem as the water just runs off. They won't fill with water unless the bung is out or the hull cracks, but you will get wet on a SOT, even if its just a wet bum!
I don't take open canoes onto the ocean for two reasons. First, they can fill up with water if the wind rises or if you experience a partial mishap at the hands of a moving partner or a thrashing fish. It's much easier to get the water into a Canadian canoe than it is to get it out and once in, the extra weight makes the return to shore a long and tiring effort. Given that my blue water PC adventures require a beach launch and that the transversal of the wave zone is a wet affair 80% of the time, all ocean-going adventures involve a SOT kayak.
However, there are situations where the location will affect your choice of PC. For example, if you intend to canoe in warm, tropical waters or in frigid southern locations, the choice of PC might differ. For me, I'd hesitate to use either Canadian or SOT kayak if I was so far north that saltwater crocodiles were an issue; so perhaps this scenario is best dealt with as a question of the presence of these man-eating reptiles or not. I'd be fine with freshies but there's no way I'd canoe in the presence of salties, and even with freshies I'd still stick to a Canadian because I'd be further away from sudden surprises. I'd also use a Canadian in very cold conditions because they are drier than SOTs. Freezing your butt off becomes an issue with a SOT in the cold. In a Canadian you can expect to stay dry and rug yourself up in the necessary clothing in order to remain warm. The use of a single paddle further helps with dryness and these are most effectively used from a Canadian.
For extended trips into remote rocky rivers where long drags over river pebbles and rocks, and rapids of varying degrees of difficulty and are the norm, Canadian canoes are supreme if for no other reason than the wider and flatter hulls of Canadians suffer less damage than the hull of a SOT. I'm not suggesting that SOTs are not suitable; they are, particularly when travelling one up with minimal gear i.e. noodles, chocolate, one set clothes and a hiking tent, it's just that Canadians are better.
Canadians allow gear to be secured inside the canoe, in waterproof barrels, reducing the probability of losing gear overboard in the white water. Another canoe advantage is the higher seat that results in the ability of the canoer to see further and to be able to look into the water. Being able to stretch and move yourself around makes for greater comfort during long trips. Canadians are also easier to get in and out as well; which is very important if you are fishing a waterway in which fishable pools are separated by rocky rapids and shallow races. Don't believe me? Try getting out 20 times during the trip and then doing the same to get back to the car. Trust me, it matters; although it would matter less to a younger angler with boundless energy.
One or two
Canadians are the go when you want to fish with company and SOTs are easier when going solo. Modern SOT kayaks do the solo job extremely well. They have waterproof compartments into which camping gear can be dryly stowed and storage areas fore and aft that are ideal for a storage drum should the opening for the waterproof hatch be too small for some of the items you want to take i.e. a frypan or billy. If that's the case, a smaller screw-top barrel (20 L and 40 L) lashed onto a storage well or waterproof plastic storage bag solves the problem.
SOTs come into their own in estuaries are the smaller coastal rivers where rapids are not really rapids and access to bass water involves crossing over barbed wire fences or down beside bridges. These are usually solo paddling events where a mate or two gets together, each with their own SOT. They are easy to lift off the car and over obstacles. Minimal gear is required and hatches cover that easily, and if your SOT has a rudder on an elastic bracket (that flicks up when crossing rocks etc), your turning ability will not suffer.
If you want to fish two up then use a Canadian. Whilst it's true that two-person SOTs are available, they lack leg room and the storage room required for two people. I have a two-seater that is used for quick lobster potting or inshore dive trips, GBR camping and for playing in the surf; but not often for fishing.
In the buddy situation, canoes come out on top every time because as far as room goes, no SOT kayak has the room that a canoe does. Similarly, I use my canoe during all paired camping adventures. 
Gear is stowed in 2 or 3 60 L screw top plastic drums and a small esky, which are in turn secured into the canoe with straps and away we go.
The final word
Most of us go through a few paddle craft during our fishing journey, so it's nice to know that quality products hold their value, which is why I think that buying a used kayak rather than new for your first kayak might be a good idea. 
It also pays to get a quality lightweight paddle (I prefer two-piece paddles for transport) and a good seat.