Longtails from the 'yak!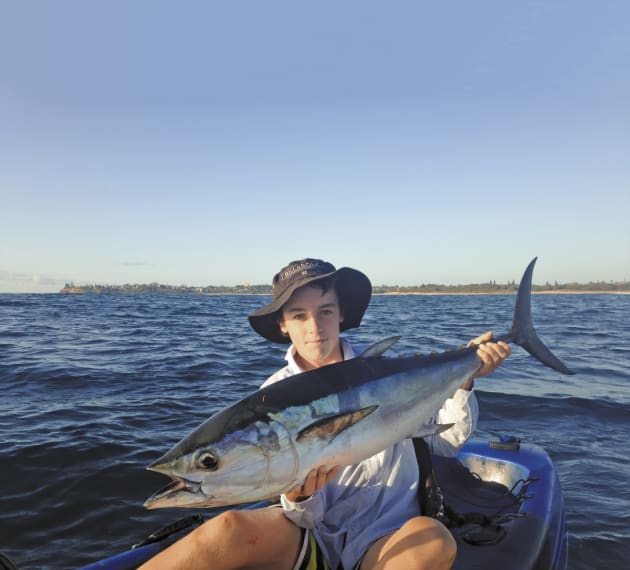 CHASING longtails from a kayak can be hard work, and as Will Muskens discovered, it's also highly addictive!
OVER the past few years the limits of kayak fishing have been pushed further. The fish being caught out of these minuscule boats have been bigger and bigger. From mangrove jacks in tight timber, to barramundi in impoundments, and in the extremes, even prize pelagics such as the blue water dwelling marlin have been caught from kayaks.
But as the offshore winds begin to roll in and our offshore waters begin to team with white bait and bomb diving birds along the South East Queensland region, kayak anglers set their minds on a new species - the northern bluefin tuna or more commonly called the longtail tuna.
Why a kayak?
A question I'm often asked is why fish out of a kayak, or more specifically, why chase tuna from a kayak? Firstly, kayaks are a seriously underrated craft and the benefits vastly out weigh the negatives. Being lighter and half the work of your average boat and not needing a boat ramp, it opens up so many more areas for launching. But my favourite and by far most useful characteristic of the kayak is its stealth, which I will talk more about later.
Kayaks can be serious work! It's sometimes a battle constantly paddling to reach the bust-ups that may go down before you reach them. More often than not you've fought 80 per cent of the battle before you've even hooked the fish! The other 20 per cent is 45minutes of two steps forward, one step back. However, it's 100 per cent worth it! Seeing that tuna come up and smash your lure, and getting dragged around the ocean and finally tailing that fish into the kayak is the most exhilarating and adrenalin filled moments.
Watching birds dive and having 15 to 20kg freight trains displace large amounts of water is an awesome sight. The urge is to paddle up and cast. But this is where stealth mode, persistence, patience and positioning come into play. Trying to incorporate the "3 Ps" in this adrenalin-pumped kind of fishing is very hard, but if used, is effective in catching fish.
Lets start with positioning. As you franticly paddle towards the school of bullets, take note of where they're heading and where the "lead fish" are going. The lead fish will dictate what direction they push the bait, hence where the fish go. Recognise this lead fish, position yourself in the same direction that the fish are heading, and the fish will come to you. Not having to correct yourself means more casts and less work.
As I mentioned earlier, kayaks are inherently stealthy. Being half the size and not having the noise of an outboard allows you to get well within casting distance of these easily spooked and timid fish, and without scaring them, maximising your chances of connecting with these pelagic fish.
Tuna can be the most frustrating fish that swims! They go down as quickly as they as they come up, be somewhere one day, and in a completely different place the next. This leads me to persistence and patience. You'll go through numerous bust ups, go through hours of chasing and casting before you'll hook up. The main thing is that you don't give up, keep casting, keep retrieving your lures right, stay positive and the results will come your way.
So, get yourself into stealth mode, get yourself in the right position and be patient. If you do, eventually you'll find your reel screaming and yourself getting towed around with a lentil pinned to the end of your line.
Gear
Having the right gear, from the right reel, rod, line, to lures and lifejacket or safety equipment is essential when chasing tuna from kayaks. Lets start with lures. Be flexible and prepared to change it up a bit. Take out a spread of lures, which include stick baits, plastics, slugs, trolling lures or poppers all in different colours or sizes. And be observant and be prepared to match the hatch. Take note on what the main source of baitfish are, looking at profile, colour and length and trying to match it as close as possible.
Your set up doesn't need to be overly heavy, just heavy enough to put a bit of strain on the fish and give it a bit of hurt during those crazy first, second and third runs. I own and use an 8-10kg Shimano Terez matched with a 5000 Shimano stradic, 30lb Kato braid with 30lb black magic leader. In terms of a rod, anything around the 6 to 10kg range is just about perfect. Enough tip to get some distance when casting but enough base to be able to dictate terms to the fish when needed.
When choosing a reel, be reasonable and anything that can hold a few hundreds metres of line is good. Don't mess around with small reels. Anything under 4000 and you can expect either to get spooled in a few minutes, to be there for over an hour or to have your reel's drag playing up. A reel around the 4000 or 5000 size range and you'll be laughing. As far as line is concerned, Tuna aren't extremely leader prone, using a 30lb leader is all that's needed, but if afraid of toothy by-catch it doesn't hurt to go up to that 50- 60lb leader, attach your leader to a 20 or 30lb braid for a good, solid fight. When chasing pelagics its well worth putting some money into a good set up. The better the set up doesn't mean the better the fish, but it does mean a better, more enjoyable fight.
Kayaks are not boats, they aren't as stable and not as strong which means when you go out into the horizon that you remember the necessary safety equipment. Things like EPIRBS, life jackets, a bucket, V sheet and an anchor. Don't forget to get these essentials when you go offshore. Get out amongst it and enjoy this addictive and primitive form of fishing between you, your kayak, and a silver slab of speed!