SBS Round 1 Shoalhaven River tournament wrap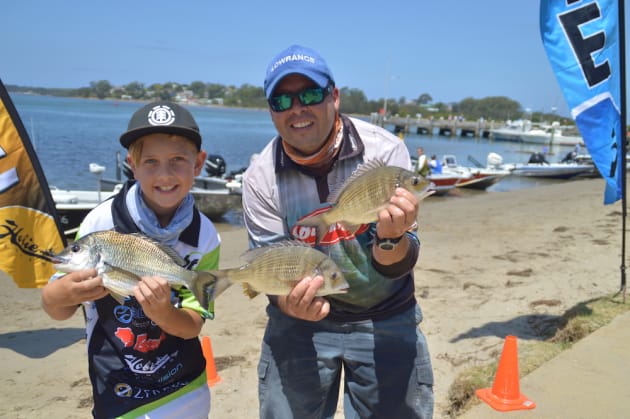 THE Shoalhaven River has a reputation for being a tough venue and that proved to be true for the first round of the Hobie Polarized Southern Bream Series for 2017.
Held on Sunday 29th January, the NSW South Coast location saw 57 boats and 26 kayaks start out and frustratingly 37 of these returned without a single point scoring fish.
Flickn4Five, the winning boat team consisting of Mark Thompson and Zac Stojanovski however, managed to unlock the river bringing home a commendable 4.35kg bag.
"Tides were the critical factor so we planned to hit the front early and work the incoming tide using light jig heads and plastics over the shallows of the reef but it was already running so we went deeper and heavier, matching the speed of the current with different jig head weights and picked up two good bream," Thompson said.
Once the current got too strong Mark and Zac moved to the rock walls above Broughton Creek and some racks but returned to the front for the turn of the tide.
"This time we only fished deep again, matching jig head weights to the current, 1/12th, 1/8th, and 1/6th doing the damage on 4 and 6lb leader. We did get busted off by at least five good fish but heavier leader produces a big belly in the line and in this current, it just doesn't work," he said.
"As the tide change happened, so did the short window of opportunity and we boated around 15 fish in approximately 45 mins before the bite shutdown. We both fish similar gear and style using 13 fishing Envy Light 6'10" and Sunline 6lb PE, Sunline leader 4lb or 6lb, Shimano Stella and Sustains in 1000 size. In summary, 2"gulp shrimps, Zman 2.5" grubs and matched to Zman and Berkley jigheads from  1/12th to 1/6th, matching the speed of the current.
Kayak fisho Sam Blundell started off his Tournament fishing career on a high coming in first with a totally bag weight of 1.31kg. Blundell tied with John and Isaac Galea from team Father and Son in the big bream prize with a 0.97kg bream.
Blundell travelled down on Friday so he was able to get out early on Saturday and pre-fish. He mainly fished the racks, fishing on the surface and when he was able to catch a few good fish he made his plan for Sunday's event.
"The conditions were prime for an early surface bite over the racks on the incoming tide along with the edges nearby. Within half an hour I had my first fish coming from an outcrop edge on a Lucky Craft Sammy that measured a welcome 30cm. The combo I was fishing was a Shimano Maikuro 2-4kg spin rod paired with a Sustain 2500 with 5lb braid, which is my go to lure setup," Blundell said.
"I would like to thank the running committee of the southern bream series for holding an awesome event, it was professional, run smoothly and was an incredibly fun event, I was lucky enough to meet a few awesome people and felt very welcome and comfortable as the rookie/newbie. I would in a heartbeat, recommend anyone with a desire to compete to come and have a go at any SBS round this year as you will not be disappointed!
Round 2 will be held in Sydney Harbour on March 5th. Visit www.basinlureandfly.org.au for further information.