VIDEO: Hobie announce reverse for MirageDrive propulsion system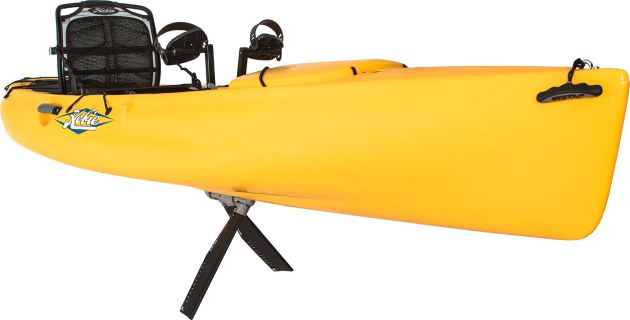 HOBIE'S bio-engineered MirageDrive propulsion system for kayaks was introduced in 1997 and has been evolving ever since. The biggest evolution so far however is this year's announcement of the patent-pending Hobie MirageDrive 180 forward-reverse propulsion system that will be integrated into all 2017 model Mirage kayaks.
Weighing in at under eight pounds, the MirageDrive 180 produces full power in both directions and offers unprecedented maneuverability. The user can pull one of two shift cables to direct propulsion 180 degrees almost instantly from forward to reverse and back again.
Imagine the possibilities; backing fish out of cover, safely fishing closer to obstructions, or fishing downstream while holding in current. Hands-free propulsion in any direction means better control to cast, to present baits, and to concentrate on landing bigger fish. And then pictures can be snapped or cold beverage enjoyed on the way back in without ever stopping.
There are two shifters, one marked in green for forward and a longer one in red for reverse, making them easy to identify. Pulling the appropriate cable pivots both MirageDrive fins 180 degrees, reversing the direction of the power output.
The MirageDrive 180 will be standard with all 2017 model year Mirage kayaks, including the legendary Outback and award-winning Pro Anglers. 2017 model year kayaks are expected to begin shipping in October 2016. The MirageDrive 180 is retrofitable to existing MirageDrive kayaks and is expected to be available as a stand-alone accessory by mid-year 2017.
More information can be found on the Hobie website.