JTRAK: Jayco's first ever tent-trailer range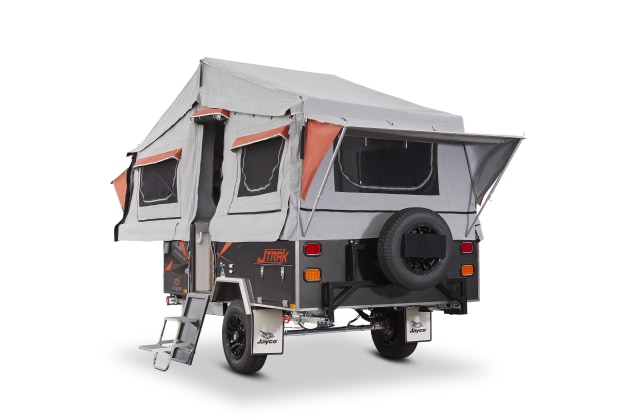 Caravan and RV manufacturer Jayco has launched its inaugural tent trailer range JTRAK.
JTRAK is Jayco's tent trailer offering designed for campers looking to transition to a caravan or perfect for those fishing buffs looking for ways to explore the hidden fishing meccas.
The quick and easy set-up of the JTRAK is its key feature, along with an inflatable annex option exclusive to Jayco. JTRAK is also the first Jayco product to showcase the new generation of Jayco chassis with JTech 2.0 suspension.
Jayco CEO, Garry Moore, says Jayco has been developing this product for the Australian conditions and is pleased to finally be able to reveal this tent trailer range to the Australian market.
"The tent trailer category is one that Jayco has been researching and testing innovations in for some time and we couldn't be prouder of the JTRAK range.
"JTRAK has been designed with avid campers in mind. Its ease of set-up in four easy steps is aimed to make the transition from 'grassroots' camping easier. And with the introduction of the inflatable annex as an add-on option, only found on Jayco products in Australia, it really is camping made easy.
"Innovation has played a huge role in developing this range and a game-changer feature is JTech 2.0 - Jayco's new generation of our legendary suspension; JTRAK is the first Jayco product to be built on it," says Neil McGowan, Jayco Research & Development Manager.
"JTech 2.0 is designed specifically for off-road adventures which means you can venture further with confidence. The new, lightweight trailing-arm suspension is compact in size, durable, and reacts better to road undulations.
"Combine the JTech 2.0 suspension with the compact nature of a tent trailer, and we see JTRAK appealing to those wanting to put the tinny on the roof and head off to find those secret fishing spots and venture off the beaten track," says Mr McGowan.
Four products sit within the JTRAK Range and each comes complete with the details and specifications as follows:
All JTRAK models sleep up to 4 people: there is a double bed, ideal for 2 adults (1940 x 1940) and a dinette area convertible into the second bed which is great for the kids (1600 x 1600).
Australian made, Australian sourced, the 10 oz JTRAK tent section comes with window awnings for sun and light rain protection. Immerse in your adventure with a fully openable partition on the lounge section.
Fully featured slide-out kitchen contains a three-burner cooktop with flame failure device, stainless steel sink, ample storage space, removable shelf and LED light. There are two bayonets underneath for gas, to keep you cooking. With a 12 v socket, you can add a kettle to the ensemble, or charge your devices while you BBQ.
JTRAK Touring
Tare weight: 950 kg
Tow ball: 105 kg
JTRAK Touring X
Tare weight: 1,015 kg
Tow ball: 130 kg
JTRAK Outback
Tare weight: 1,200 kg
Tow ball: 170 kg
JTRAK Outback X
Tare weight: 1,400 kg
Tow ball: 170 kg
"Unlike many competitive products available in Australia, forward-folding JTRAK is designed and made right here in Australia, and we hope that is something Aussies are equally as proud of as Jayco is to deliver to them," says Mr Moore.
The JTRAK tent trailer, just like other Jayco caravans and camper trailers, is certified by the Australian Made Campaign Ltd to carry the Australian Made logo. The certification was granted by the professional compliance team of the Australian Made Campaign.
For more information about Jayco's JTRAK range, click HERE.