Okuma LRF Rods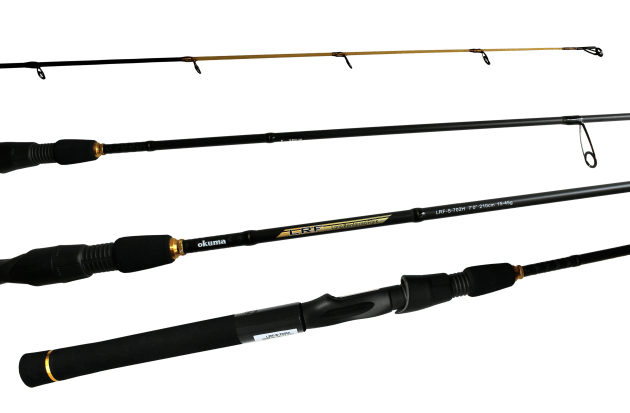 THE LRF range of rods feature Okuma's patented UFR technology (unidirectional fibre reinforcement), a breakthrough in rod strength and sensitivity. This patented manufacturing process utilises an outer layer of longitudinal fibres around the rod blank to significantly increase the rod strength and the power and sensitivity in the tip section. These fibres increase the rod's lifting power and maximum strength.
Other features on these rods include quality Seaguide XO guides, with SS316 frame and SIC inserts for long, smooth casts, full grip design for comfort and use in rod holders, comfortable reel seat design, hi-vis yellow tip section and black and gold highlights.
According to the manufacturers, the end result is a series of rods that cast lures well and offer excellent feel, while also having the sensitivity to transfer well to bait fishing applications. The additional strength and durability has also seen these rods punch well above their weight on a range of species in both the fresh and salt. With seven models in the range, the LRF has you covered from skinny water bass and trout missions with the 5' 1-3 kg, through a selection of line ratings in 6' to 7' rods and a 7'4" 2-5 kg model that is perfect for long casts on the flats.
Overall this is a versatile rod option that offers excellent value for money with SRPs from $89.90 - $99.90.
For more information, click HERE.