Okuma Makaira 10th anniversary Special Edition Series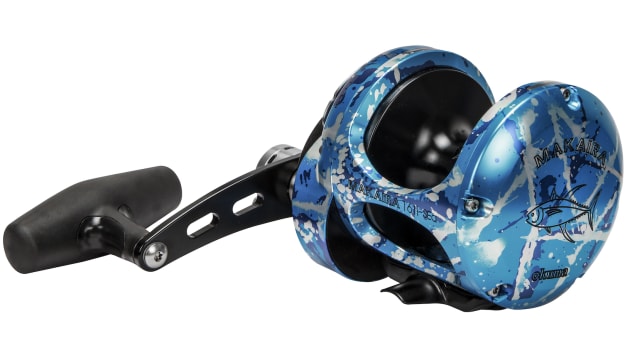 OKUMA says its Makaira 10th anniversary edition lever drag reels are built on the 4D concept that has seen the Makaira tested and proven globally by bluewater anglers, including billfish and long range tuna charters.
To celebrate the 10th Anniversary of the Makaira, Okuma has released a Special Edition Series, finished with a tri-anodising of two different blues and silver for a standout finish.
Okuma says the Carbonite Dual Force Drag system maximises high-end drag pressure, efficiency and overall smoothness. While the over-sized handle and lower low speed gearing, versus the original Makaira, serve up extreme torque for the
Makaira 10th anniversary edition:
Includes the tested and proven features of the Makaira series.
Open spool bearings with TSI-301 oil increase freespool 2-1/2 times.
All non-spool bearings feature full grease pack for maximum longevity.
Features Special two type blue and silver colour anodising.
Yellowfin tuna etched into the sideplate.
Frames have been machined out for increased clearance between spool and cross bars.
MK-20/30 feature the MK-50 handle arm and knobs
Lower speed 1.3:1 gear ratio featured in 20/30 sizes.
Lower speed 1.0:1 gear ratio featured in 50 size.
Type-II gunmetal anodised frame, side plates, spool, drag lever and handle.
For more information: www.tackletactics.com.au