Pre Rigged Berkley PowerBait Giant Ripple Shads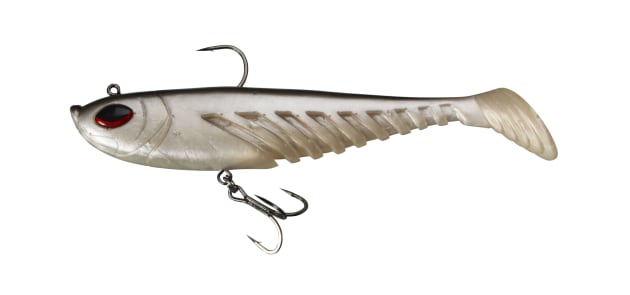 PRE-RIGGED and weighted for a great swimming action right out of the pack, the Berkley Powerbait Giant Ripple shad delivers a life-like baitfish profile, complete with 3D eyes and natural translucent colours.
Pre-rigged with a large top hook and a 360 degree swivelled belly treble, the ribs or ripples extend all the way to the bait's tail creating additional water disturbance and vibration and a larger surface area for the PowerBait scent to work from. The paddle tail imparts the vibration and classic swimming motion of a swimbait.
Berkley Powerbait Giant Ripple Shads come in 16cm, 20cm and 25cm.
According to the manufacturers, Berkley PowerBait makes novice anglers good and good anglers great. Berkley scientists have spent over 25 years perfecting an irresistible scent and flavour. They say fish love PowerBait so much they hold on 18 times longer, giving you the time and confidence to feel more bites, set more hooks and catch more fish!
The RRP is $10.99. For more information, click HERE.