Rovex Big Boss Series III Spinning Reel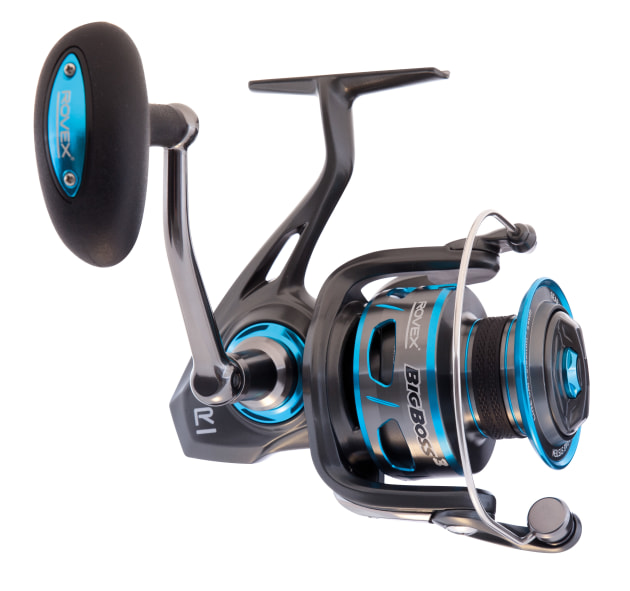 ACCORDING to the manufacturers, the Rovex Big Boss Series III Spinning Reels pack all the punch of high-end spinning reels at an unbeatable price. They're tough, they say, not to mention durablea and powerful.
The Rovex Big Boss Series III reels incorporate all the bells and whistles required for taming serious fish. The aluminium body, side plate, and spool and the stainless steel main shaft maximise durability. The six stainless steel ball bearings plus the infinite anti-reverse bearing (6+1 bearings), and the machined aluminium handle provide smooth operation. On top of this, the carbon fibre drag system delivers a fish-stopping drag capacity.
The Rovex Big Boss Series III Spinning Reels are available in three sizes (4000, 6000, and 8000) for tackling big fish. All models include a braid band and a ceramic line roller for optimal line management. The Big Boss 4000 has a gear ratio of 5.2:1, a line capacity of 230 m/0.30 mm, and a maximum drag of 17 lb for stopping snapper, mulloway, barramundi and more.
The Big Boss 6000 holds 240 m/0.35 mm, has a cranking gear ratio of 4.9:1, and an impressive 33 lb of drag for stopping big barra, big mulloway, and many inshore pelagic and reef species. The Big Boss 8000 will handle the biggest estuary, reef, and coastal species as well as pelagic species such as tuna, kingfish, giant trevally, and mackerel. It holds 280 m/0.40 mm line, has a gear ratio of 4.9:1 and a whopping maximum drag capacity of 39 lb.
This third generation of Rovex Big Boss Reels is bigger than ever and should give big-fish anglkers more bang for their buck.
For more information, click HERE.