Rovex D:8 Cast braid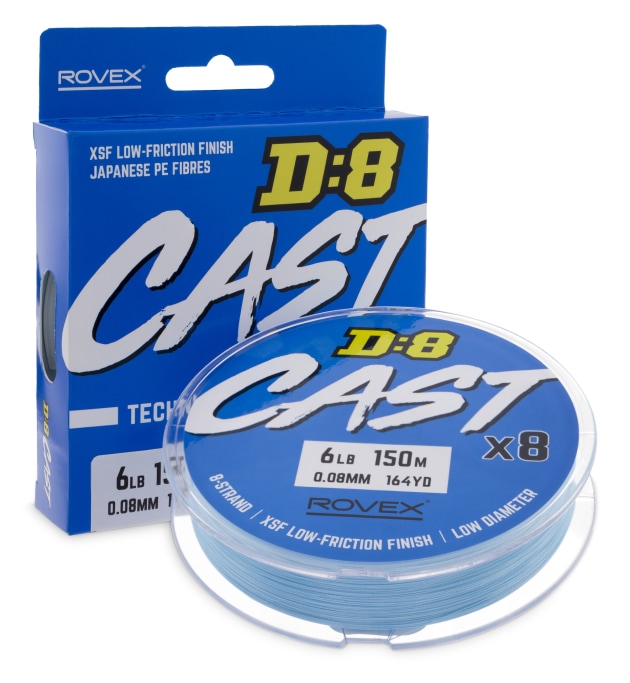 ROVEX says its D:8 Cast braid has been developed for anglers who demand a premium mainline for high-performance technical fishing and precision casting.
Constructed from premium Japanese PE fibres and featuring an XSF Low Friction Finish, D:8 Cast braid is exceptionally strong, thin and smooth. Laboratory analysis of true line diameters determined that D:8 Cast is thinner than most 8-strand braided fishing lines on the market. This thinner diameter increases spool capacity, reduces line weight and enhances casting.
The XSF Low Friction Finish is the result of a unique manufacturing process that forms an ultra-smooth surface over the braided line. It also contributes to the soft and supple texture. This advanced finishing process produces a braid with better line lay and superb casting properties.
The Japanese UHMWPE (Ultra High Molecular Weight Polyethylene) fibres are soft and supple but maintain tremendous strength properties. These superior quality fibres also form a tight weave and a smoothprofile for better casting properties.
The new glacier blue colour provides high-visibility contrast against green and brown freshwater and estuarine waters. On the other hand, it blends into blue water coastal and reef environmentsfor improved stealth.
D:8 Cast is available in 150m spools of 6lb, 10lb, and 15lb, and 300m spools of 20lb, 30lb, and 50lb.
The manufacturing processes are also environmentally responsible and incorporate the use of eco-friendly dyes and recycled packaging materials.
For more information: www.rovex.com.au