Set sail with Victorinox Navy Camouflage Collection
MARITIME shades of blues are the dominant colours that characterise the new "Navy Camouflage" collection by Victorinox. The maritime theme showcases some of the brand's most popular products from small to large in true nautical style.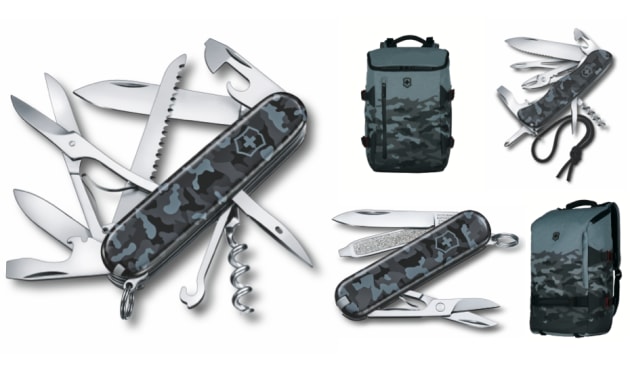 Classic SD in Navy Camouflage, RRP $52.95
The Classic SD is particularly compact, with a blade, scissors, nail file, and more, making it your practical assistant for all sorts of small daily tasks.
Huntsman in Navy Camouflage, RRP $99.95
The trusty Huntsman is packed with functionality (including two blades, a wood saw, and a can opener), and is ready to help you navigate the seven seas and get you back home safely.
Skipper in Navy Camouflage, RRP $185
The only thing more beautiful than a perfect day on the water is knowing you're ready for any imperfections. The Skipper pocket knife is like a crew in your hand, combining typical Victorinox functionality with sailing-specific tools like a shackle opener and a marlin spike. So you're always ready for knots that mock you and shackles that refuse to let go.
VX Touring Utility Backpack in Navy Camouflage, RRP $429
Travel hands-free with the VX Touring Utility Backpack or slide its rear sleeve over the handle system of your wheeled luggage, this backpack is a stylish yet practical travel companion you can trust.
VX Touring 15" Laptop Backpack in Navy Camouflage, RRP $489
For those who are always on the go, look no further than this backpack. It neatly houses a 15" laptop and all your mobile office essentials, and the water-resistant zippers on the integrated laptop pockets keep your valuables safe and dry.
 VX Touring 17" Laptop Backpack in Navy Camouflage, RRP $529
Love all the functionalities of the VX Touring 15" Laptop Backpack but would like to have a bit more storage space? This 17" version is your answer.
VX Touring CitySports 15" Laptop Backpack in Navy Camouflage, RRP $399
Every urban explorer could use a handy daypack. This nautical themed baby has a place for all your daily essentials – even your 15-inch laptop. Its padded shoulder straps and back panel guarantee comfort while the lockable zippers ensure your belongings are secured.
For more informatioon, click HERE.