SplashDrone 3+ waterproof fishing drone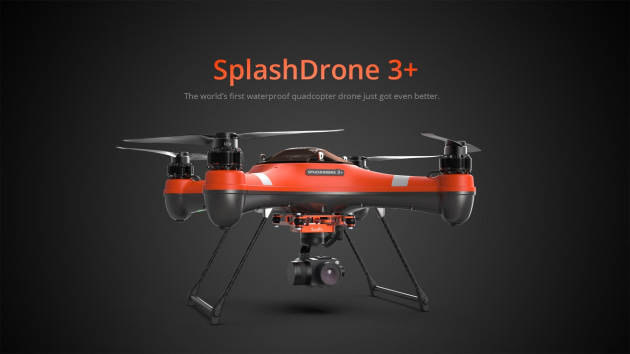 THE SplashDrone 3+ all-weather, all-purpose waterproof drone comes with a 4K camera and a payload release function. It is, according to the manufacturers, the most advanced waterproof drone ever released.
The SplashDrone 3+ combines an all-new flight computer, sensors and propulsion system to produce a reliable, stable and versatile waterproof drone with UltraHD 4K camera on board.
You can also swap the waterproof gimballed camera for optional modules including search and rescue, bait and payload release, as well as thermal imaging.
The SplashDrone 3+ fuselage is made of durable 3 mm reinforced ABS to ensure a perfect waterproof seal. All external parts are corrosion resistant and designed for use in salt and fresh water environments.
Features include:

Quick-fit propellers
The redesigned 1242 carbon-fibre propellers are light and stiff to efficiently transform the motors' power into thrust. A new quick-fit design enables fast and secure attachment of the propellers to the motors.
Waterproof 4K gimbal camera
The fully waterproof 4K gimbal camera captures smooth videos and sharp photos both while flying as well as underwater. A special hydrophobic coating ensures a clear, dry lens as soon as you take SplashDrone 3 back to the air or when flying in rain.
All in One Remote Controller
The SplashDrone 3+ comes with a custom designed, fully integrated remote controller. Redesigned controls maximise ease-of-use and efficiency, while the 5″ FPV screen clearly displays live video and overlayed (OSD) flight data without the need for any additional equipment.
New S3 Flight Controller
A completely new flight control computer, coupled with new sensors and a more powerful propulsion system, mean you can fly safely and smoothly and then land your SplashDrone 3+ with confidence on water, in rain and snow or just back to earth.  The dual-mode GPS locks onto up to 24 satellites for improved accuracy and speed of positioning.
Bait Release and 4K Camera
The SplashDrone 3+ offers a versatile payload capacity of 1 kg and multiple waterproof payload release solutions for different purposes, including positioning your fishing bait right where you want it. All payload options use a quick-fit mount so they can be fitted and removed in seconds.
For more information or to purchase, click HERE.