Toadfish Stowaway Fillet System
THE Toadfish Stowaway Fillet System combines both the Folding Fillet Knife and Folding Cutting Board, in a neoprene case that is designed for ease and safety of transportation. All items are available individually or as a Stowaway Fillet System in two sizes, a 7" knife and standard board, or 8.5" knife and XL board.
The clever Stowaway Folding Fillet Knife combines the high-end performance and ergonomics of a full-length fixed knife, with the safety and versatility of a folding knife. Features include a full-length ergonomic handle, salt-tough titanium corrosion-resistant components, titanium coated salt-tough blade, non-slip raised rubber grip and stowaway carabiner.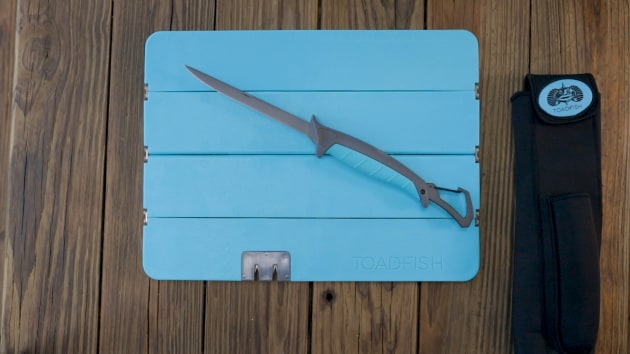 The Stowaway Cutting Board fits easily into kitchen drawers, boat boxes, tackle bags, or travel packs and it is constructed from solid, non-porous, high-density polyethylene material for safe food handling and features a built-in 2 stage knife sharpener (carbide section and ceramic section) and anti-skid bottom.
For more information: www.toadfish.com.au