Ultra Lumens Headlamp X5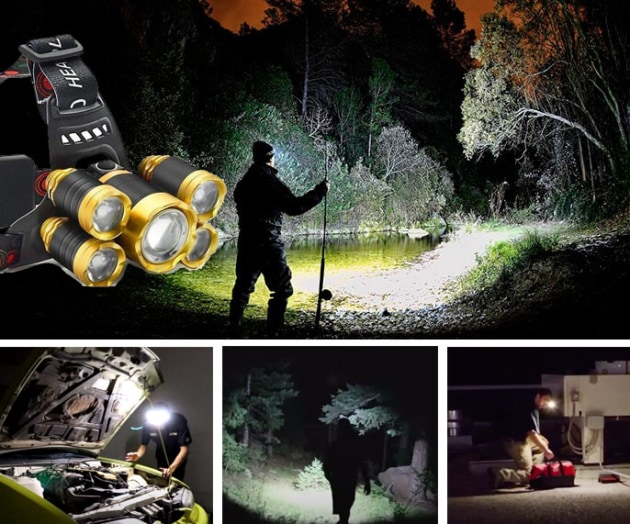 THE pitch black of the night creates a challenging environment for anglers due to casting, rigging, and performing other critical tasks required to catch fish due to the sheer lack of visibility.
Rechargeable headlamps are one of the most critical pieces of equipment you can have when it comes to fishing at night and the failure of this piece of equipment is not only detrimental to your fish-catching cause, it can also be critical to your safety.
The Ultra Lumens X5 headlamp is a headlamp that will get the job done on the water time and time again, it boasts some incredible features as well as high-quality components and durable materials and design to make it the perfect fishing headlamp.
The X5 comes with 5 super bright Cree LED lights capable of producing 14,000 lumens with an adjustable focus for long-distance illumination and four different brightness settings which include a strobe setting, and even includes a red LED light at the rear of the head strap, providing a beacon of safety if you are on a boat after dark, allowing other boats and anglers to see and become aware of your presence.
The bright headlamp is made of a durable and high-quality aluminum alloy making it highly impact resistant.
Very important for fishing, the X5 Headlamp features IPX5 grade water-resistant materials and construction, making it great for harsh weather, and something that anglers should not go without.
Did we mention this thing has a great power source? The X5 comes with two large USB rechargeable batteries, along with the main USB cord, main charger, and even a car charger so you can charge your headlamp while you're on the way to your favorite fishing spots.
With the X5 in your fishing gear assortment, you will have one less thing to worry about night fishing, and it will give you the reliable lighting you need when it comes to tying on lures or terminal tackle, fighting and netting fish, and getting off and on the water safely.
Get the X5 headlamp at the Ultra Lumens Store.