2018 Murray Codference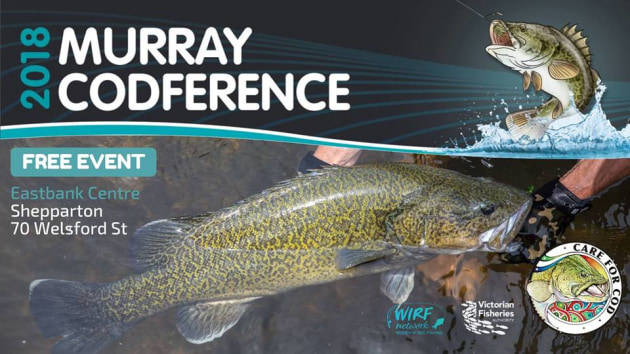 MURRAY cod lovers here's one for your diaries, because the Victorian Fishing Authority is anticipating this December's Murray Codference will be the biggest yet.
There are some sensational speakers locked in to talk about the very latest on how this iconic Aussie species is tracking.
So, if you love Murray cod, golden perch and other native fish, come along to hear from:
Our keynote speaker, Australian competition fisher, Carl Jocumsen, will share his fishing journey and bring his latest tournament tactic tips, fresh off the USA Bass Pro circuit
Lubin Pfeiffer talking tactics to land big Murray cod
Bill Classon on Victoria's native fish revolution
Will Trueman telling us how good trout cod and Macquarie perch fishing was and how to get it back
Stephen Booth sharing the latest golden perch impoundment fishing tactics
Robbie Alexander's knowledge on local water, local fish and tips on getting the kids involved
Researchers on how our native fish populations have improved over the last 20 years and, what's made the difference.
You can download a provisional conference program HERE.
Participants will also receive:
A Codference 2018 satchel
Limited edition Care for cod Kattafurra surface lure
Care for cod boat decal sticker
Codference proceedings brochure
Care for cod removable tattoo (for the kids - or young at heart!)
When
Sunday, December 9 between 9 am and 4 pm
Where
Eastbank Conference Centre, 70 Welsford Street, Shepparton
Registrations
Please register for the 2018 Murray Codference HERE.
This is a FREE event. Registrations help us plan catering that will include complimentary lunch and refreshments for the duration of the Conference for all attendees.
Event flier
You can download the event flier HERE.