2020 Pirtek Fishing Challenge announced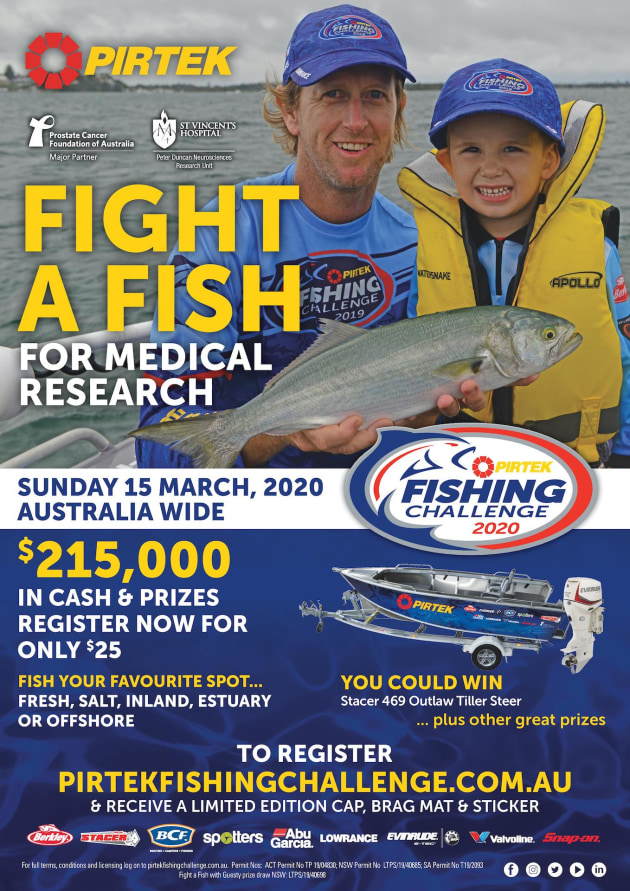 THE Pirtek Fishing Challenge - now in its 12th year - is a one day catch, photo and release event to be held on Sunday March 15, 2020. Keen anglers of all ages will compete right across Australia fishing their favourite locations.
The Pirtek Fishing Challenge raises funds and awareness for the Prostate Cancer Foundation of Australia and the Peter Duncan Neuroscience Research Unit.
The Prostate Cancer Foundation of Australia is a broad based community organisation and the peak national body for prostate cancer in Australia.
It is dedicated to reducing the impact of prostate cancer on Australian men, their partners and families, recognising the diversity of the Australian community.
The Peter Duncan Neurosciences Research Unit has recently been lauded as the number one Neuroscience Research facility in Australia.
The focus of the Unit is to study adult stem cells and their role in causing and exacerbating neurological diseases.
The goal is to find and apply new neuroscience techniques for patients suffering from diseases such as Multiple Sclerosis, Parkinson's Disease and Alzheimer's, and other neurological infections and stroke.
Proceeds from the Pirtek Fishing Challenge will be split between these two leading medical research organisations.
Registration is $25, plus postage. Everyone who registers receives a limited edition Pirtek Fishing Challenge cap and brag mat. New for 2020 each junior who enters receives a pack of Berkley Powerbait Nemesis lures, RRP $9.95.

There are 22 target species nationally both salt and freshwater fish. South Australian competitors can fish for five species in total, King George Whiting, Bream (all species), as well as Golden Perch, Redfin and European Carp in the Murray Darling Basin category.
The Challenge boasts over $215K in cash and prizes for 2020. Pirtek Fluid Systems together with Berkley, BCF, Stacer, Evinrude, Spotters, ABU Garcia, Valvoline, Lowrance and Snap-On have delivered a fantastic prize pool of over $215,000 for this year's competition.
Pirtek are keeping all competitors in the hunt with twenty-two $4000 cash mystery length prizes. The mystery length is awarded in each category for the fish measuring closest to a predetermined length. This length is generally an average sized fish giving everyone the opportunity to win.
Every competitor is also entered in the On The Water prize draw. Thanks to Stacer and Evinrude one lucky person will win a boat motor trailer package to make every fisherman jealous.
Prizes include:
Stacer 469 Outlaw tiller steer boat motor trailer package with 75hp Evinrude outboard valued at $31,990.
2 x Snap-On Tools tool kits. Valued at $2,638 each
Lowrance Hook 2 12-inch FishFinder. $2,049.00 RRP
$2000 Berkley/ABU Garcia tackle pack
8 x Snap-On Tools 100-piece general service set tool kit. RRP $614.00
Valvoline product pack valued at $500 RRP
Authorised by ACT TP19/04830; NSW LTPS/19/40685; SA T19/2093.
Another first for 2020 is the Lowrance Fishing Club competition. Ten lucky fishing clubs will win a "HOOK 2" SPLIT SHOT 7 Inch sounder GPS units valued at $800.
The registered club with the most members entered for the 2020 Pirtek Fishing Challenge in each state plus the Northern Territory will win this terrific prize.
There are two units for NSW/ACT, QLD and Victoria along with a unit for WA, SA, TAS and NT. All competitors need to do is enter their Fishing Club's name at the time of registration.
For details and to enter: pirtekfishinhchallenge.com.au