Adelaide River produces land-based $10k Million Dollar Fish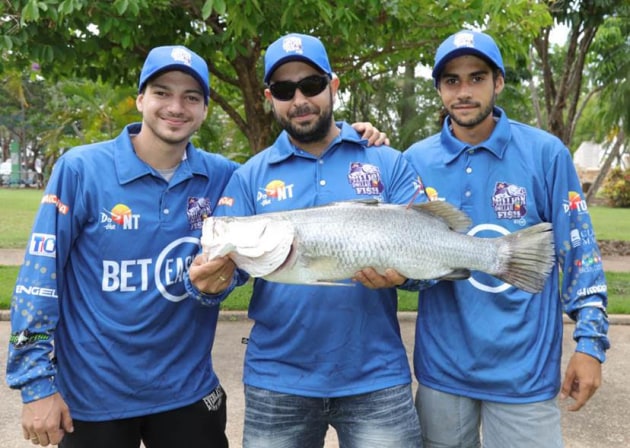 AN after-work land-based fishing session on the banks of the Territory's Adelaide River has netted three Darwin-based Territorians $10k in prize money.
Anthony Patsalou, with the help of his cousin Anthony Savvas and childhood friend Chris Mellios, landed a red-tagged 68 cm barramundi.
"We've been mates for more than 15 years," Anthony Patsalou said after the fish was verified.
"We usually fish our secret spot on the last of the spring tides (big tides) dropping onto the neap tides (smaller tides).
"We got the fish with our first cast on a hard body B52 Bomber. The fish hit the lure right at my feet and as soon as I brought it in my cousin, Anthony [Savvas], walked down to the bank and he grabbed it and threw it up out of the water."
"I have never seen a fish fly up a bank like that in my life, he saw the red tag and threw it like he was playing cricket for Australia," Chris said.
The fishos regularly fish together and said they had agreed they would split the winnings if they ever caught a prize Million Dollar Fish.
BetEasy Strategic Partnership Manager Brad Fanning said the most recent catch shows that land-based fishos have plenty of chances to catch a prize-winning fish.
"Many will remember legendary Darwin fisho Hiro Nakamura landed a $10k barra on the shores of Mindil Beach in Season Three," Mr Fanning said.
"Several fish, including our purple-tagged charity fish, are located in accessible locations so everyone has a chance to land a Million Dollar Fish."
Season Four of the Million Dollar Fish competition commenced on October 1, 2018, with more chances than ever to catch a $1 million fish.
In this year's competition, the number of $1 million fish has been increased to five, which is expected to reel in fishing fanatics to the Territory and give a boost to tourism and local tourism operators.
Those looking to come to the Territory and catch a Million Dollar Fish can register for free HERE. 
For information on Territory fishing regulations and best practice catch and release methods, download the free Northern Territory (NT) Fishing Mate app on your smart phone.