Barra bonanza for Million Dollar Fish Season 6 opening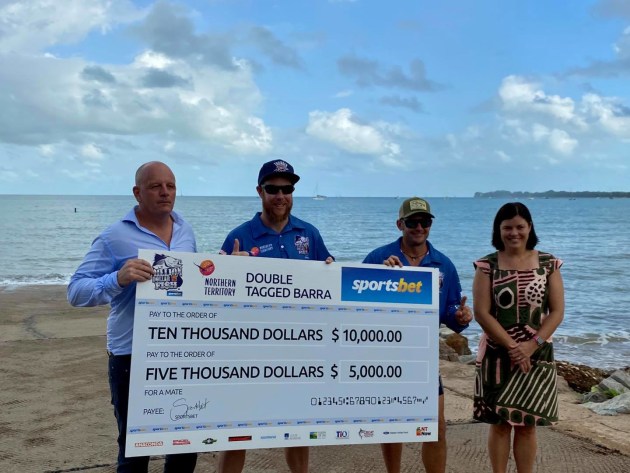 FOR the first time in the competition's history, three prize-tagged barra have been caught in the first week of Million Dollar Fish Season 6 seeing $35,000 in cash prizes going to eager Top End fishos.
Territorian Jamie Poniris was the first to hook onto a Season 6 red-tagged barra while holidaying at Kakadu National Park using a Territory Tourism voucher.
The 57.5cm barra was caught at Yellow Water just hours after the competition commenced on 1 October, with winnings anticipated to go towards his brother's upcoming bucks night later this month.
The second red-tagged barra was reeled in by Karama resident Wilfredo Riddick near the Nightcliff Jetty on Saturday, 3 October.
Measuring 56cm in length, the $10,000 barra was released by the Minister for Tourism, Hospitality and Major Events Natasha Fyles at the Nightcliff Boat Ramp just last week.
The first Double Tag barra was hooked on Sunday by Queenslander Ryan Curtis, which measured a huge 98cm in length, caught on the Mary River.
The Mackay resident whose parents own Reidy's Lures used a Reidy's custom vibe to hook the lucrative prize earning him a huge $10,000 and $5,000 to give to a mate who's had a tough year.
Million Dollar Fish Season 6 is the biggest to date, with seven $1 million barra swimming in Territory waterways, along with 98 red-tagged fish worth $10,000 remaining. The Million Dollar Fish competition runs from 1 October, 2020 until 31 March, 2021.
For more information: milliondollarfish.com.au