ST Georges Basin on the NSW south coast was last weekend's venue for round 13 of the Hobie Kayak Bream Series from which two anglers qualified for the 2014 Hobie Kayak Bream Series Grand Final presented by Daiwa.
The top two finishers also won places in the Australian squad to compete in the Hobie Fishing World Championships in the Netherlands from October 5-11.
On day one at the Basin, competing anglers found the fishing fairly tough although around half the field still bagged their three legal bream but upgrades were scarce. For most competitors the fish were on the bite early but became more timid in the calm conditions and as the light began to break through the clouds later in the session.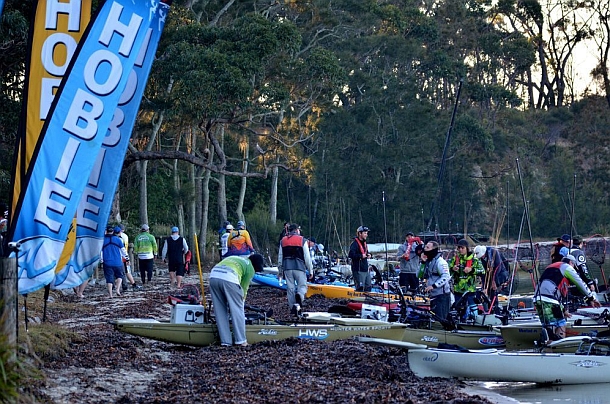 At the completion of the weigh-in, James Kilpatrick from Belmont in NSW was leading the field with a 2.92kg bag, comfortably ahead of the 2.24kg bag of Brett Crowe from Vincentia in NSW and Kane Terry from NSW whose 2.22kg bag placed him in third with a day to go in the tournament.
Jason Lambert from NSW was leading the Hog's Breath Cafe Boss Hog Big Bream with the biggest fish of day one which weighed in at 1.61kg.




Hog's Breath Cafe Boss Hog Big Bream winner Jason Lambert.

Day Two
Hoping to improve on their day one catch, anglers were faced with conditions vastly different to the previous day, with clear blue skies and temperatures ranging up to 22ºC. An unpredictable, cold wind picked up from an almost calm breeze at the Power-Pole Starting Line to a fluctuating 20kph breeze that was blowing from different directions around the arena throughout the day.

After two long days on the water and with all anglers safely back at the tournament location, bags were removed from the Berkley Bump Tub and placed on the scales for the final weigh-in.
After waiting for confirmation from the tournament director, Kevin Varty from Nowra in NSW snared the major prize for the event. As well as a hefty cheque and an excellent sponsor prize pack, his two day aggregate bag weight of 4.03kg won him a place in the Hobie Kayak Bream Series Grand Final in Western Australia and a position on the Aussie team to compete in the Hobie Fishing World Championship in Europe next month.
Second place went to Brett Crowe from Vincentia in NSW who also won a grand final and worlds spot and Jason Meech from the Central Coast in NSW took the third place cheque and sponsor prize pack.




Winner Kevin Varty has been tournament fishing for the past three years and competes solely in kayak fishing events. The round 13 tournament victory was his second tournament win.

Brett Crowe competing in only his second Hobie Kayak Bream Series tournament netted a full bag of bream on day one but only brought home two fish on the second day of competition giving him an accumulated weight of 3.95kg, short of the tournament winner by a mere 35g and giving him an overall advantage in weight of 170g over the third place finisher Jason Meech.

More at: www.hobiefishing.com.au