BHP funds Reef Vision citizen science program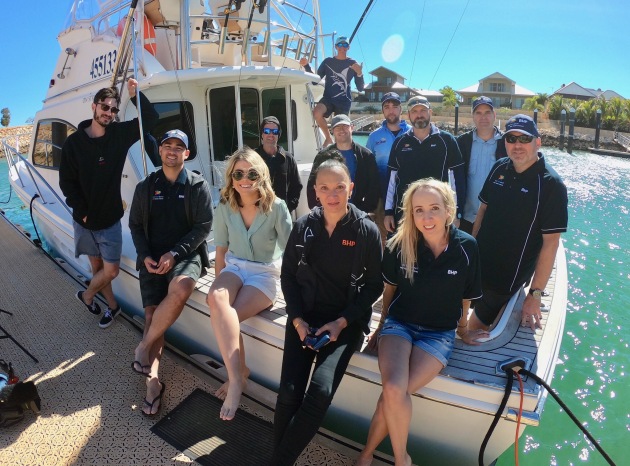 RECENTLY, Recfishwest CEO Andrew Rowland visited Exmouth Game Fishing Club to announce a community partnership that will see BHP fund the Recfishwest Exmouth Reef Vision program over the next two years.
Reef Vision is a world-first citizen science program in which more than 100 community volunteers gather underwater video footage of some of WA's most valued species, by dropping cameras over the side of their boats and onto the state's artificial reefs. 
This new partnership will help monitor the development and success of the reefs' ability to increase fish productivity and therefore create greater, safer and more accessible fishing opportunities for small boat fishers.
The announcement reflects an evolving partnership between Recfishwest and BHP, with BHP throwing its weight behind the King Reef project deployed in the safe waters of the Exmouth Gulf only a year ago.
King Reef is now a very important part of fishing in the Exmouth Gulf and the local community have embraced it by becoming the stewards of the reef and helping capture some amazing footage. Without their efforts, Exmouth Reef Vision simply wouldn't be what it is today.
Six large steel structures, along with 49 concrete modules, were deployed across more than two acres of barren seafloor, roughly the equivalent of five footy ovals. A partnership between Recfishwest, Subcon, BHP, National Energy Resources Australia (NERA) and the WA State Government meant Western Australia had its first look at a reef concept never seen before in Australia.
Recfishwest engaged with the fishing club in Exmouth six years ago about their vision to create a small boat fishing reef in the gulf. To now have the reef in the water, to hear the fishing reports and see the video of the reef's development and abundant fish life is fantastic.
The reef has already seen more than 50 different fish species recorded with more than half of those being some of our favourite species including red emperor, Spanish mackerel, Rankin cod, coral trout and spangled emperor.
Artificial reefs like these are clearly a big hit for fish, which in turn attracts the fishers, who in turn are spending valuable tourism dollars in regional towns like Exmouth – $1.8 billion a year on fishing trips according to our Economic Dimensions of Recreational Fishing in Western Australia report.