THE largest field ever to compete in a NSW round of the Hobie Kayak Bream Series, churned up the waters around Forster last weekend in round 7 of the 2015 season.

In a massively important weekend, 67 of the country's best kayak anglers jostled on the Power-Pole Starting Line as they prepared to battle it out for the two places available on the Australian team for the 5th Hobie Fishing World Championship in China later this year. Competitors were also chasing "Angler of the Year", rankings points, sponsor prize packs, exceptional cash payouts and places in the Hobie Kayak Bream Series Australian Championship to be held on Lake Macquarie.

Most anglers hooked plenty of fish and all had an absolute ball fishing the tournament. Anglers with less experience cranking into racks learnt some tough lessons and tackle box loads of lures were lost trying to wrestle fish out from the oyster racks, poles and washboards that protected them.

The highly competitive two day tournament culminated in Joel Crosbie holding on to his day 1 lead. He collected the top prize money of $1,900, as well as a sponsor prize pack, an Australian Championship place and representative honours at the 5th Hobie Fishing World Championship in China.
Crosbie's two day total of six bream for a weight of 4.53kg placed him ahead of Glenn Allen who jumped up one place to take out the number two position with six for 4.15kg and Chris Burbidge from Victoria, finished in 3rd place with a total bag weight of 4.09kg.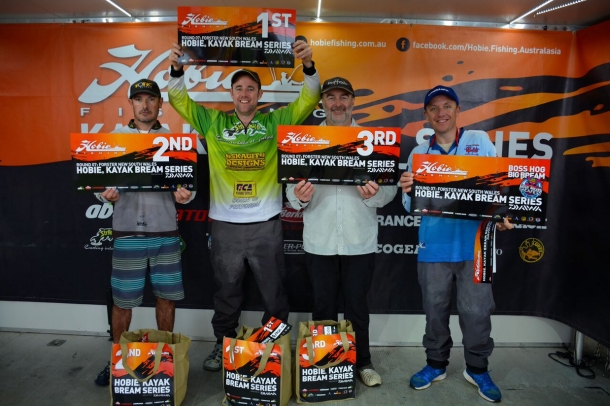 Jason Meech from the NSW Central Coast took out the Hog's Breath Cafe, Boss Hog Big Bream prize with his 1.19.kg Forster Bruiser.
Round 8 of the series will be held on the Glenelg River at Nelson on the border of South Australia and Victoria and will be run by Vic Bream Classics on the 20th and 21st of June.
More at: www.hobiefishing.com.au