COMMENT: Get outside and fish local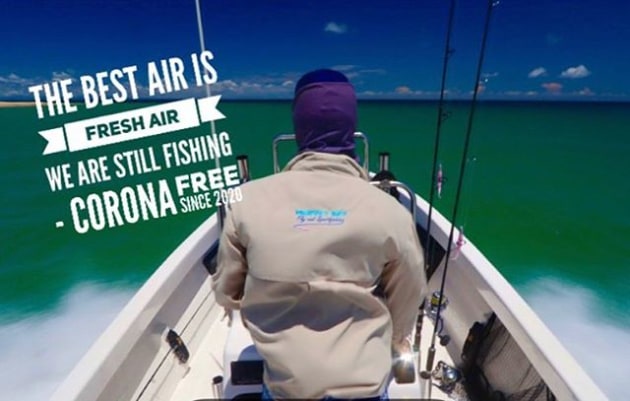 COVID-19 is shaping up to be one the biggest "events" in living memory… unfortunately for all the wrong reasons.
The virus is having a catastrophic impact on the hospitality, event and travel industries with cancellations and job losses. People are afraid and sadly there's not much good news to report.
Or is there? Fisho's Dr David Green, director of emergency medicine at the Gold Coast Hospital, wrote a timely update on social media driving home the seriousness of the situation while reminding fishos the best place to be is on the ocean or the river.
"Take this stuff extremely seriously, never be dismissive. Above all, go fishing! The ocean and rivers are virus free. The best place to isolate yourself is in your boat! And wash your bloody hands!" says Greeny.
The pandemic is also having a negative impact on local fishing guides. Charters and guides are feeling the pinch with a sudden drop in international and domestic clients. Quarantine restrictions have meant international clients are no longer able to visit, while Aussie fishos coming from other parts of the country are cancelling due to flight problems.
With so many charter cancellations and available spaces, why not stay local, or do a road trip, and book a guide? According to local Sydney guide Justin Duggan, now is a great time to fish the harbour or neighbouring estuaries and spaces are available due to these cancellations.
Check out the fishing action in the video above shot this week in Sydney Harbour by Justin Duggan.
It's the same story in Hervey Bay with established guide Andrew Chorley from Hervey Bay Fly and Sportfishing. Andrew told Fisho there have been cancellations from international and domestic travellers. He has spots available in what's usually a red hot season in Hervey Bay.
No doubt it's a similar story across the country with too many charter operators and guides to mention. Getting out and spending a day with a guide is well worthwhile, even if it's in your local waterway. There's so much to learn and the chances of catching quality fish is always high.
If booking a guide isn't your thing, organising a day out on the boat, the beach or pier is still a pretty good way of "isolating" yourself and escaping the barrage of negativity in the media. Why you're at it, support your local tackle shop, many of which are still recovering from a disastrous summer of bushfires.
If Dr David Green says you should go fishing, I reckon that's a pretty good excuse to grab the gear, hook up the boat and hit the water.
For more info about guides, check out the Professional Fishing Instructors & Guides Association at www.pfiga.org.au.
Websites for the aforementioned charters are sydneyflyfishing.com.au and herveybaysportfishing.com.au.