LAST weekend saw the the Victorian fishing mecca of Marlo play host for round 2 of the Hobie Kayak Bream Series presented by Daiwa.
The small community is situated in the East Gippsland district of Victoria at the mouth of the Snowy River and has arguably become one of the most popular tournament locations on the Hobie Kayak Bream Series calendar.

Round two of the series saw 65 competitors entered, made up of 46 Victorians, 13 from NSW, three from the ACT and two South Australian anglers. The haul of fish that was brought back to the scales over the two days of the tournament numbered 191 bream with a total accumulated weight of 121.53kg. After being weighed the fish were released safely back into the waterway.

The fishing had been predicted to be tough as the Snowy River catchment area had carried a large amount of rain into the system. The challenging water meant the anglers had their work cut out for them to bring in three bream each day to the Daiwa Event Site for weigh in.
Despite the challenging conditions the arena fished well with many anglers successfully reaching the three bream bag limit each day.

After two long, hard days of fishing, competitors arrived back at the event site with a good haul of fish and waited at the Berkley Bump Tub to be rushed up to the scales for the Strike Pro Weigh-in. Joel Crosbie from Mirboo North in East Gippsland, Victoria hooked the top position on the Lowrance Leaderboard with six bream for 5.58kg.
Second place went to Corey Gallagher from Ocean Grove in Victoria with six for 4.66 and a third Victorian, Martin Fellows snared the final place in the top three with his three bream bag weighing 4.36.

Crosbie, who has fished Marlo in most Hobie Kayak Bream Series tournaments, initially planned to follow a tried and true plan of attack.

"Given that I've fished nearly every tournament that has been held here, my usual plan is to go down and fish the front of the system. But that didn't go to plan. I had to come halfway back, just down stream from the event site towards the entrance and there I found the fish I was after in the deep water".

"I was just blading, sitting in about 12' of water. There were massive schools of fish there. There was actually quite a bit of bi-catch today as well. I think I caught about a half dozen 'Luddies' luderick, flathead, trevally, so there were big schools of fish all stacked up, down the front, and my game plan was just to deep blade them. 12' seemed to be the magic number today as I bladed across the sand".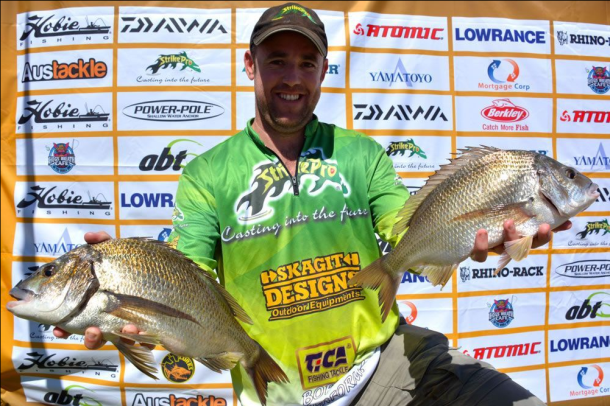 Joel Crosbie was the winning angler at the Hobie Kayak Bream Series, Marlo round.
Read full report at: http://www.hobiefishing.com.au/