Environment: The Sydney Fish Market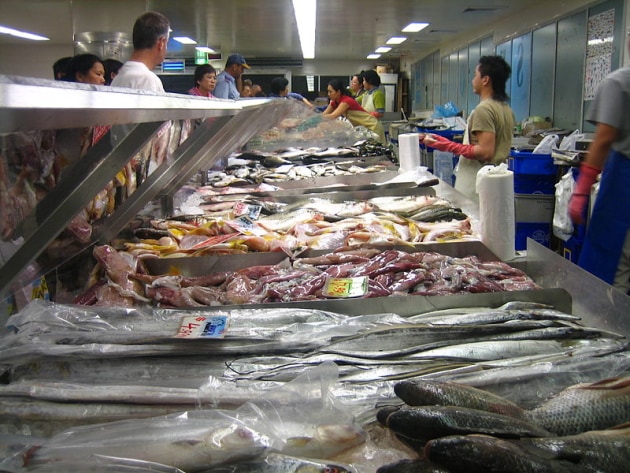 I've always loved the old SFM. It's a bit smelly, the outside tables are a bit grotty, the seagulls are aggressive but it's a great place to visit to buy fresh seafood or have a good feed from the retailers cooking on the spot, or the classy yum cha restaurant. And you can buy a beer or wine to go with your meal and finish off the visit with non-seafood purchases at the deli, the butcher or the fruit and veg market.
Fifty-odd years ago when my mates and I were into comp fishing we'd get there at opening time to get our super-fresh bait: Sydney Harbour school prawns for bream and trevally, small sea gar for tailor and Hawkesbury squid for jewies. It always gave us an edge over the opposition who depended on frozen product. In the intervening years, the SFM continued to play a role in my life. Meetings and interviews there when working on aquaculture industry development, seafood taste tests and regular visits to buy unusual seafood dinner items and special Christmas fare. There was always a great range of filleting knives and scalers to choose from too.
There have been plans on the table to redevelop or improve the SFM for at least twenty years. About thirteen years back the then Labor government finally came up with a masterplan but shelved it when the cost/benefit numbers didn't look promising. It's the old business expansion problem: you might sell fish (or any other product) at 100% efficiency, but the profit may still not be nearly enough to service the redevelopment debt.
Now the Coalition government has released dramatic plans for a $250 million plus new SFM adjacent to the current site. It aims to have an integrated wholesale/retail operation built and open by 2023, and the architects' drawings are pretty spectacular, and include a ferry wharf. A few questions don't seem to be answered though. How will the terrible traffic snarls that currently occur in peak buying periods be addressed? Will there be new parking areas, and if so where? Will it be easy for delivery and pick-up trucks to get in and out?
The last question has in the past led for calls to split the market into separate wholesale and retail operations, with the wholesale component moving away from Blackwattle Bay to a location that's much easier for industry folk to access. Admittedly, though, much of the SFM's charm is about seeing the wholesale side of seafood marketing in operation, even if much of the 14,500 tonnes of product sold each year is imported from interstate or overseas.
So, hopefully the redevelopment announcement is not just election spin or an excuse to free up the old SFM site for more inner-city high-rise home unit construction. All the people who depend on the SFM for their livelihoods deserve a good result after years of frustrated hopes, with modelling suggesting that the visitation rate could grow from three to six million people per year. And despite the obvious pitch to the tourist trade, you'd like to think that keen young anglers will still be able to get great bait there if they're willing to get up early.