Fishing World October 2020 edition out now!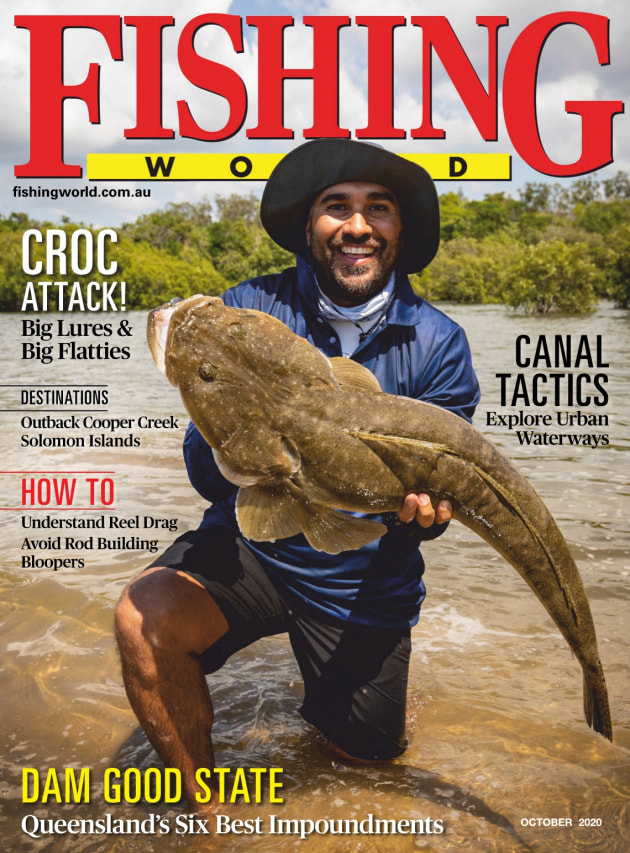 THE October edition of Fishing World is jam-packed with fishing information from Australia's best fishing writers.
COVER STORY: SHALLOW WATER CROC QUEST BY PATRICK LINEHAN
The "bigger is better" approach works well when selecting lures, and in turn, catching big flatties.
BAIT VS LURES: THE BAIT DEBATE BY ALEX CICCOZZI
Are you a bait or lure devotee? Or, as Alex explains, are you a versatile angler who takes advantage of both?
ESTUARY FISHING: CANAL KNOWLEDGE BY MARK FRENDIN
Canals are a productive fishery, bridging the gap between urban sprawl and coastal estuaries.
FRESHWATER: SIX OF THE BEST BY DAVID GREEN
As travel restrictions become a reality, Greeny profiles six of the best impoundments for Queenslanders looking to fish local.
DESTINATIONS: SOLOMON ISLANDS BY GREG FINNEY
While international travel restrictions remain in place, now is the time to start planning for a post Covid bucket list trip, and the Solomons is an option worth exploring.
REVIEW: TAKE CONTROL BY MARK WARD
Yamaha's Helm Master Ex will change the way fishos approach boat control.
TIME FOR A SEA CHANGE BY MARK WARD
Seachange Boating (SCBx) is a new concept of modular sportfishing hulls.
A BIG PLUS BY SCOTT THOMAS
Raymarine has updated its range of Axiom fish finders with the launch of Axiom +.
THE GHOST WHO WALKS BY MICK FLETORIDIS
The latest wave of electric motors hitting the market boast more features and quieter operation.
The October edition is on newsstands now, and is also available online.