HERE'S the latest instalment of Fisho Writer's Top 5 photos, this time from talented NSW South Coast based angler Andrew Badullovich.
Andrew told Fisho why he selected the following photos: "When it comes to fishing, I have a plethora of magic memories. They vary from monumental captures and hard fought victories shared with a pal, to moments of bliss and solitude where the fish play second fiddle to the serenity."
"Some of these special moments are captured with a photograph, while the balance lingers in my mind. Out of those hard-copy memories - these are my favourite five."

Family fishing
There is nothing I love better, than taking my family out for a day's fishing. One thing that tops the day off is if my kids catch a decent fish. In this case, my family and I were fishing on Wallagoot Lake in 2013, when my son hooked a fish of a lifetime! The 91cm long tailor jumped and thrashed but to my young boy's credit, he held strong and brought the beast to the net. We did shoot some better pics of the fish prior to release, however, it is this particular image that really captures the moment!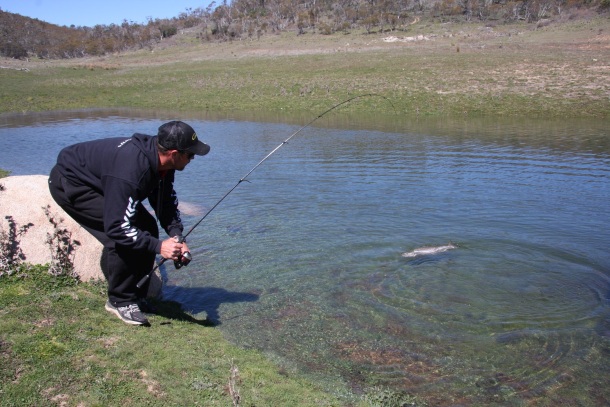 Stalking browns
Trout fishing to me is the ultimate challenge of stealth. I studied this brown trout's movements for quite a while, casting every lure within my arsenal at it whilst it worked its beat. I had to squat motionless behind a rock as it swam towards me, only firing a cast as it turned away to ensure I didn't spook it from the ultra-clear skinny water it was patrolling. After several attempts to entice it, I finally made the decision to offer it an unweighted worm. The trout pounced on it with delight, and I was set for a torrid battle as it blistered off toward a field of semi-submersed thistles. My 2lb fluorocarbon line was stretched to all capacity; nonetheless, the battle was won and the 6lb Eucumbene Lake trout was slid onto the grassy bank.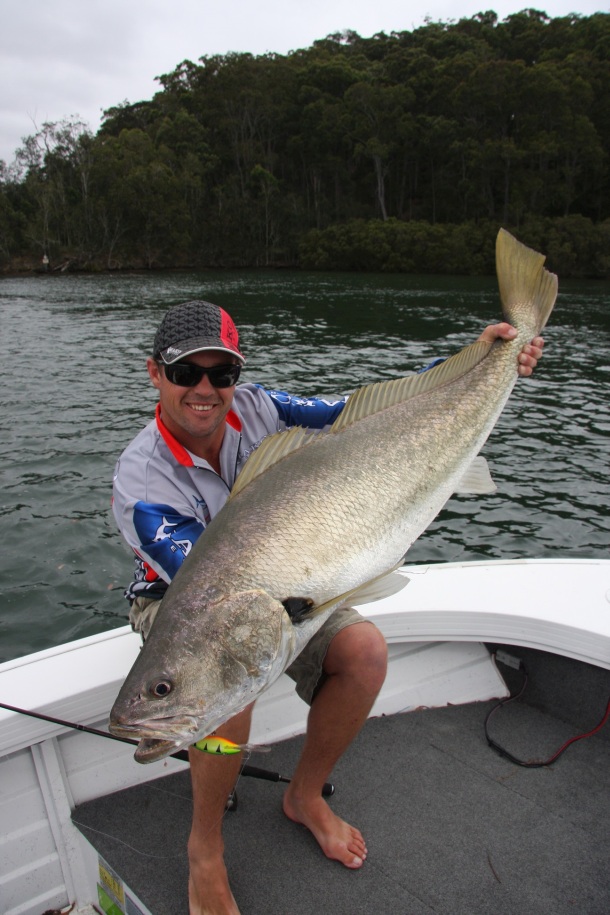 Timely jewie
Mulloway are always a special capture, however, this particular "jewie" will forever remain a fond memory. I desperately required a day-time photograph of a jewie for an article I was writing. My plan was to drop my children to school; drive two and a half hours up the coast to Batemans Bay - catch a jewie - and be home with enough time to pick up my kids from school. Easy, right? School starts at 9am, take away five hours travel time there and back … that left me with an hour to find, capture and photograph a fish before 3pm! Well, I hooked a jewie on a hard-bodied lure with 15 minutes to spare, found another angler on the water to photograph the fish for me, and was there to pick up my kids with a minute to spare. The things we fishing writers have to do, hey…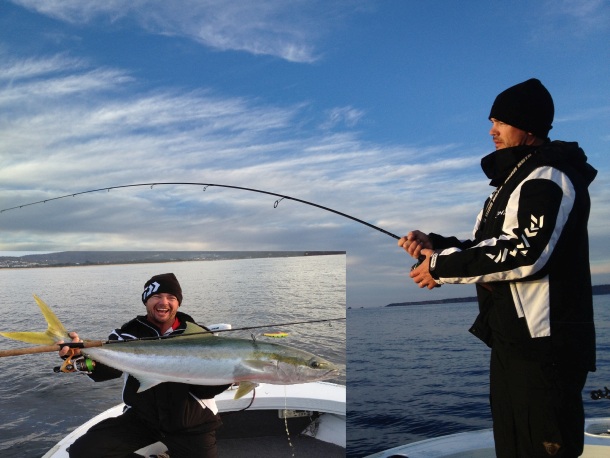 Bassin' for kings
It was a cold Merimbula morning in June, and the buzz was some large kingfish were terrorising the baitfish grounds at first light. I had a plan to catch some live bait, and chase a big hoodlum. Well, the plan changed a little, as a school of mega kings began busting into the baitfish before I could manage to catch a live bait. The only rod and reel in the boat that was rigged with a leader was a small 3-5kg bass rod that had been in the boat from yesterday's session. I didn't expect things to happen so quickly and with a trembling hand I tied on the first lure I could find. I fired a cast into the melee and my offering was whacked! Now I was in serious trouble! I puppy-dogged the kingfish for 45 minutes, until my brother-in-law secured it and boated it for me. The fish weighed 18.2kg, and that remains my most nervous battle to date. I laugh every time I see the pic of the bass rod straightened out under the pressure of the fish's bullying tactics.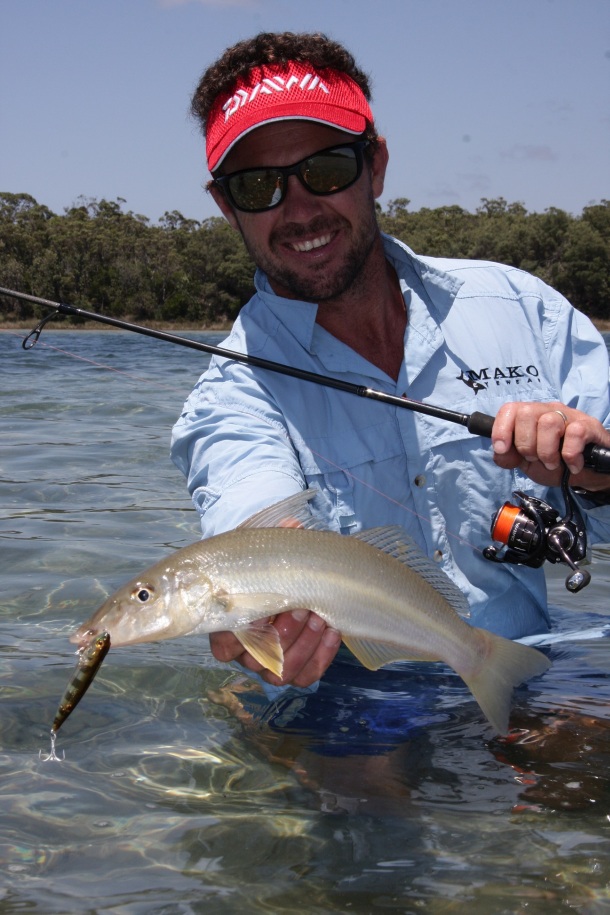 Summer fun
This whiting is by no means a large fish, however, this photograph typifies my favourite pastime. Wading the flats and catching whiting on surface lures just screams summer time to me. It's a fantastic time of year to be on the far south coast of NSW, and you'll often find me waist deep in the crystal clear southern waters chasing a feed of 'ting. Catching whiting on surface lures doesn't go without its challenges; however, most sessions are fruitful, not to mention exciting! This is where I live, and what I love to do. Catching big fish may be fun, but prospecting the shallows for bread and butter species can be pretty special too.