Fourth Top End prize-tagged barramundi caught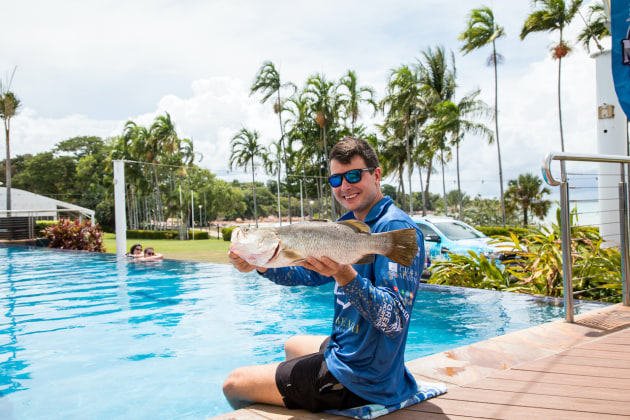 DARWIN local Jamie Cooper has become the first fisho of 2020 to land a tagged barra worth $10,000 as part of Million Dollar Fish Season 5.
The $10,000 prize-tagged fish was caught on a New Year fishing trip at Adelaide River with his cousin Pete.
While Mr Cooper's 59cm catch was not one of the six red-tagged $1 million fish, he said the money would be put to good use in paying for repairs to his boat trailer so he can get back out on the water and do more fishing.
In Season 5 of the Million Dollar Fish competition, 121 barramundi have been tagged and released across the Territory including 100 carrying $10,000 cash prize tags and a further 20 purple-tagged barra each worth $5,000 to be split between the angler and one of three Northern Territory-based charities.
For the first time in the competition, Season 5 has a staggering six prize-tagged barramundi worth $1 million each, including a Season 5 tagged Million Dollar Fish and an additional five barra with $1 million prize tags from Seasons 1 to 4.
Season 5 of the Million Dollar Fish competition will run until 31 March 2020.
To be in the running to win a prized-tagged fish, register for the competition at www.milliondollarfish.com.au.