"HELP" written in mud saves missing anglers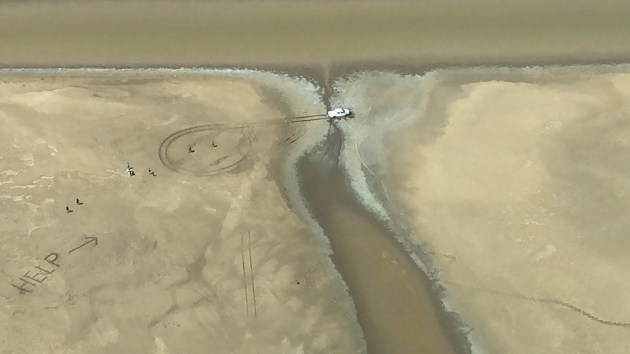 TWO young anglers who sparked an air and land search of isolated terrain in Australia's north say one of their biggest fears was attracting saltwater crocodiles.
According to an article on the ABC website, Shantelle Johnson and her partner Colen Nulgit lit spot fires and scratched "HELP" into the mud after their utility became bogged during a fishing trip to the Keep River National Park in the Northern Territory, close to the border with Western Australia.
The couple, from the East Kimberley town of Kununurra, and their puppy, Ace, were rescued by search teams at Barra Hole near Marralum on Monday afternoon after being missing for 26 hours.
"We were pretty scared and worried, but we were just hoping someone would come," says Shantelle, who had told family to raise the alarm if they were overdue.
"We lit spot fires and got some smoke going up, and we wrote 'help' in the mud."
They spent Sunday night in the bogged car with little food and water. They'd seen crocodile tracks and were worried about the tide bringing reptiles close to the bank. 
"A plane saw the fire – we were pretty lucky" says Colen.
"We didn't know that they'd seen us until they came lower to the ground. We jumped out of the car and waved them down! It was overwhelming, emotional, we were pretty happy we'd made it."
Police said the couple did the right thing by staying with their vehicle but Colen thinks he'll take more recovery gear and supplies on his next trip.
You can read the full story HERE.