Hervey Bay fishing report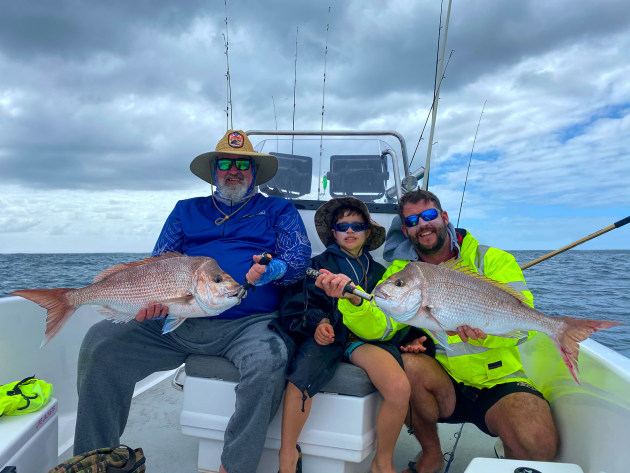 I HOPE that spring will see some better days ahead in these modern times. We have been busy here on the Fraser Coast, and are looking forward to the borders opening soon so that our NSW guests can get up here and enjoy some fishing.
August can be a tricky month but the wider grounds can generally give us some great fishing if conditions allow. This August guests enjoyed targeting coral trout with some great fish coming aboard. Working soft plastics is a very effective way to target trout and they often fight much softer to when they are hooked on live baits. This allows lighter tackle and is great fun for all ages and abilities.
Along with the trout we landed some nice cod, sweetlip, various trevally species, longtails and cobia.
Snapper were a little trickier to find but we did manage some nice specimens to 82cm. Snapper came in on a range of techniques including metal jigs, soft plastics and hard body lures.
Closer to home, the flats fished well for golden trevally, queenfish and small GTs. On the windy days we made our way up on the flats and had some fun with the light gear. While fishing the flats guide Peter Fry guided some guests onto a nice longtail which was cruising the edge. It's fairly rare to see longtails on the southern flats and was an epic 3 hour battle on light tackle. Well done to the angler and Pete for staying calm and having plenty of patience – that's one epic battle.

The next month we should start seeing some mackerel tuna move into the bay along with longtail tuna on the surface. School mackerel will move on the reefs again and the inshore fishing scene will start to heat up. Even small black marlin might be possible early this season with a few captures inside the Bay already this year. On the flats, flathead, golden trevally, queenfish and smaller trevally will start to be more active.
If you are after some spring time sportfishing be in touch and secure your spot. Email us fishing@herveybaysportfishing.com.au