Illegal anglers lose $35,000 borrowed boat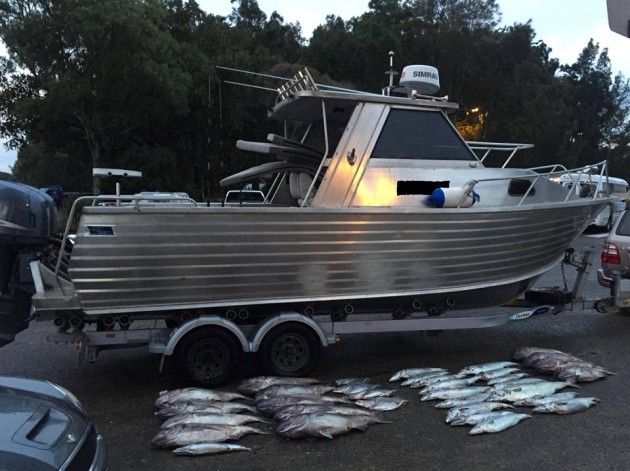 A 46-YEAR-OLD man from Fairfield and a 37-year-old man from Dee Why, both in NSW,  have been found in possession of more than the permitted quantity of deep sea fish species, and have had the boat they had borrowed confiscated authorities.
According to an article on the NSW Department of Primary Industries (DPI) website, Director of Fisheries Compliance, Patrick Tully, said Fisheries Officers spotted the men in the Parramatta River near Kissing Point; when approached the men told the Officers they had been fishing offshore at Browns Mountain and had caught a lawful amount of fish.
"Fisheries officers searched the boat and found over 250 kg of fish on board, much of it hidden in concealed compartments under the deck," Mr Tully said.
"A total of 17 Gemfish weighing 75 kg, 13 Blue Eye Trevalla weighing 165 kg and other fish weighing 10 kg were found in the boat.
"Officers seized the boat, motors, trailer, fish and fishing gear on the spot. The men were each charged with possessing more than the legal limit of fish in circumstances of aggravation."
The two men appeared before the Downing Centre on September 25, 2017, and entered guilty pleas.
The boat, valued at over $35,000 and owned by another man who wasn't present at the time of the offences, was forfeited by the Court and the men received $20,000 in fines.
There is a daily bag limit of five deep sea species per person and only two can be gemfish. Other deep sea species include hapuka, banded rock cod, bass groper and blue eye trevalla.
A boat limit of ten gemfish applies, if more than five anglers are fishing from the same boat.
"Illegal fishing risks the sustainability of the resource for legitimate recreational and commercial fisheries and presents serious food safety issues," Mr Tully said.
"People found illegally fishing can expect severe consequences."
Anyone with information on suspected illegal fishing activity is urged to contact their local Fisheries office, call the Fishers Watch phone line on 1800 043 536 or report illegal fishing activities online at www.dpi.nsw.gov.au/fishing/compliance/report-illegal-activity