TYPICAL of the sort of uncommon catches that happen in autumn every year as the warm East Australian Current reaches further south, Fisho this week heard reports of longtail (northern bluefin) tuna being caught by boaties fishing Jervis Bay on the NSW South Coast.
We've also have a verified report of a longtail tuna caught on a live bait by LBG angler, Max Milz, who was fishing off Beecroft this week. See pic (right) and video below.
And bad luck to keen young fisho Ben Blades (who keen readers will recognise from the JB barracuda story earlier this year) who lost a nice longtail at the boat! See our Facebook page for a video of Ben hooked up.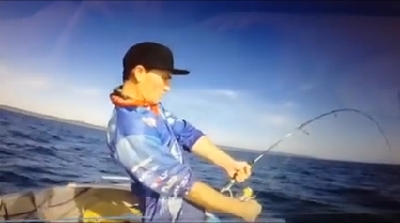 Ben Blades hooked up to a longtail this week at JB.
Anyone else caught a longtail or another "uncommon" sportfish recently? Let us know!


Pumped - keen LBG fisho Max Milz with his longtail tuna taken on a livie at Beecroft, Jervis Bay this week.