Jeremy Wade's Dark Waters and the search for Murray cod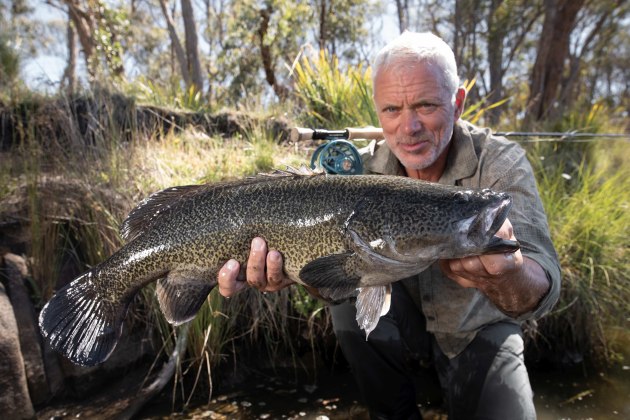 JEREMY Wade's Dark Waters airs on Animal Planet tonight, Monday, June 3 at 9:30 pm AEST.
Dark Waters takes Animal Planet's audiences on journeys beneath the water in remote areas, to islands lost in time and out into the open ocean to investigate reports that include, among others, entire fish species suddenly disappearing; unexplained sightings of mythical beasts; once thriving rivers now empty; and genetic oddities that may have produced the biggest monsters yet.
Fishing World recently caught up with Jeremy to discuss the new series and hear about his recent experiences filming down under.
"This series is more general fish stories, things I may have heard over the years. The first program we kick off with is about a lake monster in Italy. There are lake monster stories all around the world, but that one looks particularly promising because of the geography of the lake," Jeremy told Fishing World.
Closer to home Jeremy travelled to Western NSW in search of Murray cod.
"I enjoyed the fishing. I was on Copeton Dam for a while, although unfortunately it was not at a great time with the water low and falling at the same time. Then I was fishing on some smaller rivers, particularity fly fishing. I think I have to come back," he said.
While this part of the country is suffering from drought, Jeremy was surprised by the resilience of our native fish and the efforts being done to take care of Murray cod stocks.
"With my global perspective, I think it's an incredible good news story. I started travelling places looking for fish about 35 years ago. When I started off I spent time in libraries and would look at fish around the world that were interesting. In most places the fish had declined and were not in the places they used to be. My initial impression of the Murray cod was this is purely something from the history books.
"I started hearing a few years ago, people were contacting me saying Murray cod are back, people are catching them. It is very unusual in a global context for a fish to be declining and then all of a sudden it's back and doing really well.
"Not long ago people would keep them as trophies and put them on the wall, so catch and release is very important. I also think they are a very resilient fish; I was surprised how little water there was in some of these rivers yet the cod are thriving. They tuck themselves away in a river somewhere and I think they are clearly adapted to an environment where you have extreme water levels. During a drought they hunker down and can sit out these periods of low water. If you just give them a little help, they will do the rest.
"They're quite similar to a fish I've caught in the Amazon, the arapaima. This is a fish that also lives in an environment where there are incredible fluctuations in water level. They can survive in those conditions. That's another fish that has suffered, but in places where they have been protected they have come back really impressively. The Murray cod itself responds to some loving care and they will do the rest," he said.
Check out the episode tonight on Animal Planet at 9:30 pm AEST.