Kingfish heads north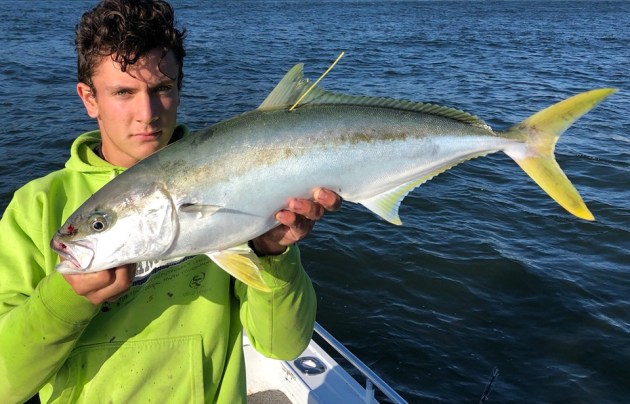 A YELLOWTAIL kingfish tagged in Sydney by gun angler Gianni Lo Giudice has been recaptured after taking a bit of a northern adventure.
Fishing inside Sydney Harbour on November 30, 2018, Gianni managed to subdue the king on light tackle before tagging and releasing the fish in excellent condition. At the time, it measured 77 cm and was estimated to be 3.5 kg.
Fast forward 220 days to 8 July, 2019, and keen 14-year-old fisho Tom Foley recaptured the fish while fishing offshore of Tweed Heads in 100 m of water.
Skipper Simon Deane measured the fish at 85 cm and 5.2 kg, highlighting a solid growth rate, especially when you consider the distance travelled.
Tom was thrilled with his catch.
During the fish's 220 days at liberty, it travelled a straight line distance of more than 670 km.
DPI's Game Fish Tagging Program is a great example of your fishing licence at work. If you'd like to get involved in the program, phone (02) 6691 9602 or email gamefish.tagging@dpi.nsw.gov.au.