Kingston SE Surf Fishing Contest report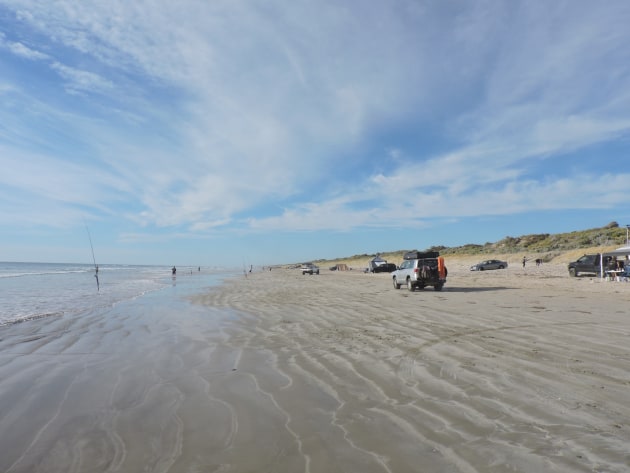 THE 42nd annual Kingston SE Surf Fishing Contest brought together 1,200 competitors. The weather forecast looked pretty awesome with a prediction of 32 degrees for the 2pm start on Saturday January 23 and the weather definitely was spot on!
It is a weekend that everyone involved looks forward to. The preparation for the weekend began early on Tuesday when the lure of winning a boat for the heaviest scale fish was too tempting an opportunity to pass on.
Firstly, I made sure I had enough variations of rigs and decided to upgrade and buy a new pilchard lure. Changing tactics from last year's failed attempt at using fresh pilchards on double-gang hooks, I decided that a lure may be the answer. Upon entering the competition I asked for more advice about bait and after much discussion with the local experts I bought a smorgasbord including squid and cockles.
Venturing out to the beautiful scenery of the Granites late Saturday afternoon, I set up camp having to borrow a mallet from my neighbours to make sure the rod stand was stable. The conditions were exceptional with warm water definitely a bonus when wadding waste deep before casting! The breeze was light and the tide – although a dodge tide – was not a hindrance to a pearler of an evening.
Traditionally someone always lands in trouble with a vehicle hedged on a sandbar. As luck would have it, later in the evening a car got bogged at the entrance to the Granites as this beach is definitely four wheel drive only. However the locals were happy to help the tourists out whilst watching for their rods twitching at the same time.
A huge stingray was caught nearby and gave cheer to the adjacent fishers that we all may end up catching something substantial. Time went by very quickly watching the sun go down and my "last cast" call kept ongoing as I was having too much fun!
Whilst I did not catch anything the fish munched the bait leaving it looking like wool dags on the end of the hook! Even though I lost all of my bait and fed the fish the experience was well worth the entry fee.
Well done to the Kingston SE Lions Club and everyone involved for organizing another successful event! Happy fishing!