THE Sydney Morning Herald has reported that a massive fish kill was discovered earlier this week in the Georges River near Liverpool in Sydney's west.
According to the Herald, tonnes of dead fish have been hauled from the river and Environment Protection Authority inspectors have taken samples from a storm water drain at Moorebank, believed to be the source of the deadly contamination.

"The fish kill was first reported to the EPA's Environment Line on Saturday morning by a local fisherman," an EPA spokeswoman said. Hundreds of dead fish of mixed species started to turn up in the river.
A subsequent storm on Sunday afternoon resulted in white foamy water flowing into the river from the storm water drain.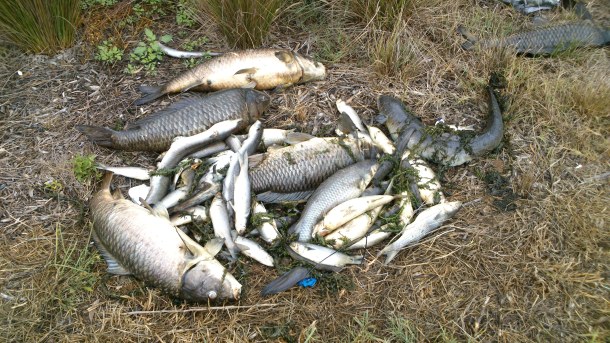 Some of the dead fish removed from the river. Image supplied by the NSW EPA.

The EPA says it is continuing its investigation into the source of the fish kill. The clean-up of dead fish was completed on Monday afternoon with a total of four tonnes removed from the river and disposed at an appropriate landfill facility.

The latest set of test results has confirmed preliminary testing and showed that the water in the drain where the white foam flowed to the river was highly toxic to aquatic life.

EPA officers are continuing to take further water samples from a nearby stormwater drain and will be following up on a number of lines of inquiry as part of the on-going investigation.

This disturbing incident follows a recent fish kill at South Creek, another popular western Sydney fishing location.
Image supplied by NSW EPA.
More at: http://www.smh.com.au/environment/water-issues/mystery-chemical-triggers-massive-fish-kill-in-georges-river-20150218-13ihxu.html