AMERICAN marine giant Mercury has raised the stakes in the outboard sector by releasing two high horsepower engines featuring water cooled superchargers.

The six cylinder 350 and 400hp Verados are Mercury's response to what it calls a "demand for higher horse power" and will compete directly against Yamaha's V8 350hp outboards.

The two Verados are based on the proven 2.6 litre straight six block introduced when Mercury launched its Verado range in 2004. Since then, the company says it has sold more than 75,000 L6 Verados and amassed about 50 million hours of on-water use.

Speaking at a pre-launch briefing here in Miami, Mercury chief technology officer David Foulkes said the 350 and 400hp engines featured cold air induction, water cooled superchargers, upgraded power heads and new fuel injection systems.

The 350, which weighs in at 303kg in the 25 inch shaft variant, revs out to 6400 rpm and is designed primarily for sportfishing boats in single, twin, triple and quad configurations. The American market is dominated by large centre console boats, many of which feature multiple engines on the transom.

Mercury is hoping the 350 Verado's weight advantage, plus its relatively narrow design, will appeal to buyers in this market.

It should appeal be popular with freshwater anglers operating the popular "bass boat" style vessels and also with owners of "pontoon" boats, which are undergoing a rapid growth spurt here in the US.

While Mercury is confident of good sales within the commercial and government sectors in the Australian market with its 350, it's likely Aussie boat builders will need to update transom specifications in order to cater to the higher horsepower now on offer. That said, builders of 7m plus plate and fibreglass boats, which are becoming increasingly popular with offshore anglers doing big miles in search of tuna and marlin, will doubtless see the 350 Verado as an interesting option.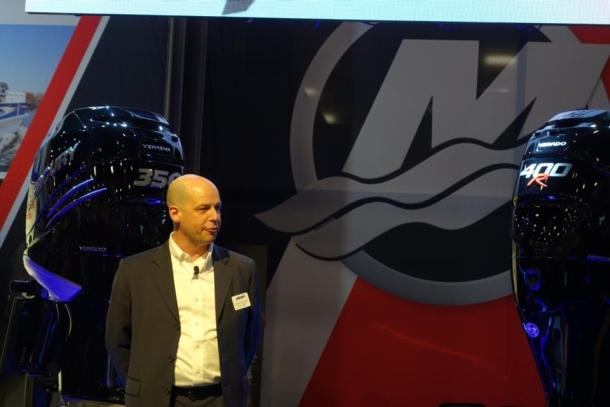 ABOVE: Mercury Marine president John C. Pfeifer.

Mercury will offer the 350 in three colours - Phantom black, cold Fusion and warm Fusion. The Fusion variants are basically different shades of white.

As with all six cylinder Verados, the 350s come standard with integrated power steering, digital controls and what Mercury calls its "Advanced Mid-Section", a mounting system designed to minimise noise and vibration.

The engines also have joystick piloting as an option. Fisho understands this is very popular with operators of boats with two or more engines, as it makes docking a cinch.
The water cooled supercharger is the heart of the 350. As we understand it, the supercharger is bigger and more effective than previous models. "Water from the engine's cooling system cools the supercharger to reduce the effort required to compress air, increasing efficiency and durability," Mercury says.

This process is further aided by the engine's ability to "capture" cool air outside the cowl and deliver it to the supercharger. Mercury technicians explained that cool air contains more oxygen, which thus results in the engine operating more efficiently and delivering more power.

The 350 Verado also features further technology advances in the form of a heat exchanging oil cooling system, a new fuel system and a maintenance free valve train.

The 350 will be sold in Australian with a five-year warranty including three years against corrosion. It's expected pricing will be similar to comparable models already on the market.

The 400
Unlike the 350, which is being marketed and sold as a "consumer" product, the Verado 400R is geared towards the hard-core racing set. That said, it appears likely that many US anglers - especially tournament specialists and those who enjoy operating big centre consoles - will want to bolt a 400 - or maybe three or four - to their transom, simply because these are the biggest and possibly fastest engines available.


It's likely that some Australian boaters - including serious anglers and those into performance boats - will share similar sentiments to their American cousins and will want a 400R simply because of the size and performance on offer.

And the stats indicate that these donks are serious performers. Rated to 7000 rpm, the engines are reputed to deliver blistering acceleration and top end speed. Fisho will hopefully get a chance to take a ride in a variety of sportfishing vessels powered by these engines. Speeds of up to 100mph will be reached, Mercury spokesmen reveal.

We'll have to hold onto our hat ...

As many Aussie boaties know, Mercury has a long history in boat racing. Conversations here in Miami with Mercury technicians and engineers reveal there's a fair degree of quiet expectation concerning the 400R.

In fact, Mercury's David Foulkes went as far as to say that the Verado 400 has "the best power to weight ratio of any outboard, ever".

Data shown to the international boating media revealed the 400R had more than twice the acceleration of its closest rival plus substantially faster top end speeds.

Like the 350, the 400R is available in black and both the Fusion whites. Seven custom colour accents are available as options so boat builders can match the engine with hull decals and graphics.

The 400R is designed for maximum performance with premium fuel (although it will operate using standard petrol) and had a limited warranty compared to other Verado products.


Find out more on the Mercury 350 and 400R Verados at www.mercurymarine.com.au. Stay tuned for performance reports and images from the Miami International Boat Show via www.fishingworld.com.au and our Facebook page.