QUEENSLANDER John Noble, 19, has won Round 3 of the Hobie Kayak Bass Series Presented By Daiwa held last weekend at Moogerah Dam.

The dam, stocked with Australian bass, golden and silver perch, Mary River cod and saratoga is a rich and diverse freshwater fishery. An average depth of 10.8m and plenty of standing and submerged timber in the water make Moogerah Dam a perfectly suited venue for a round of the Hobie Kayak Bass Series.

The round kicked off early Sunday morning with 24 competing anglers from four states and territories pedaling off from the Power-Pole starting line in excellent conditions. Despite the picture perfect conditions that continued throughout the day, many anglers found the bite slow until the early afternoon when the bass switched on close to finishing time.

Employing a catch-photo-release (CPR) system, anglers placed their legal sized bass on a standard measuring stick, took a photo to record the length and then released the fish back into the waterway. At the conclusion of the tournament session, anglers arrived back on shore eager to place their key tags on the board, complete their catch cards and hand their camera cards to the tournament scorer.

When all results were finalised and confirmed by the tournament director, 19-year-old John Noble from Queensland, having caught a total of 40 legal bass over the course of the day, took out the major prize with a 124cm total aggregate fish length.
Richard Somerton from Victoria finished the day with a 122cm aggregate catch while Glenn Hayter from NSW brought home a 120cm bag that was good enough to take out third place in what was an amazingly tight finish.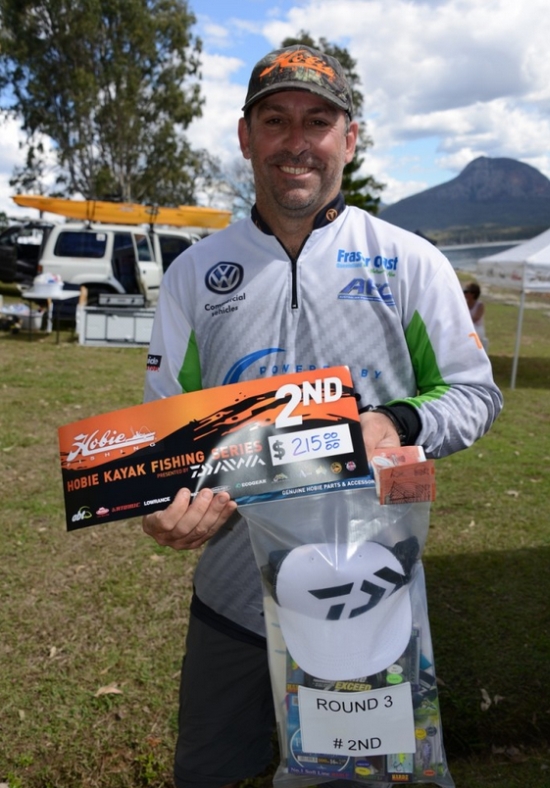 Richard Somerton from Victoria finished in 2nd place.
Queenslander Jason Garner followed up his recent Hog's Breath Café Big Bream win in the Redcliffe round of the Hobie Kayak Bream Series presented by Daiwa taking the biggest bass from Moogerah which measured in at a nice 49cm.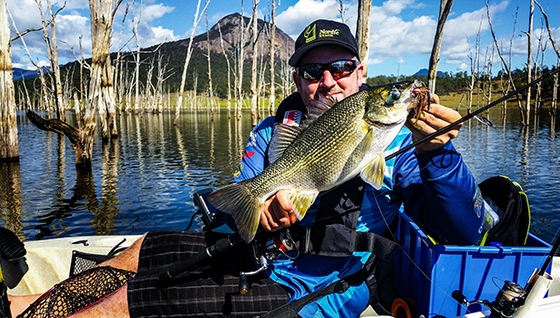 Jason Garner with his 49cm fish, the biggest bass taken at the event.
NEXT ROUND
It's time to start planning for the final round of the Hobie Kayak Bass Series presented by Daiwa, which will be held at Toonumbar Dam on September 14. The two-day October 25-26 Bass grand final venue will be announced soon.
More info: www.hobiefishing.com.au