OzFish support native fish rescue and relocation: Lachlan River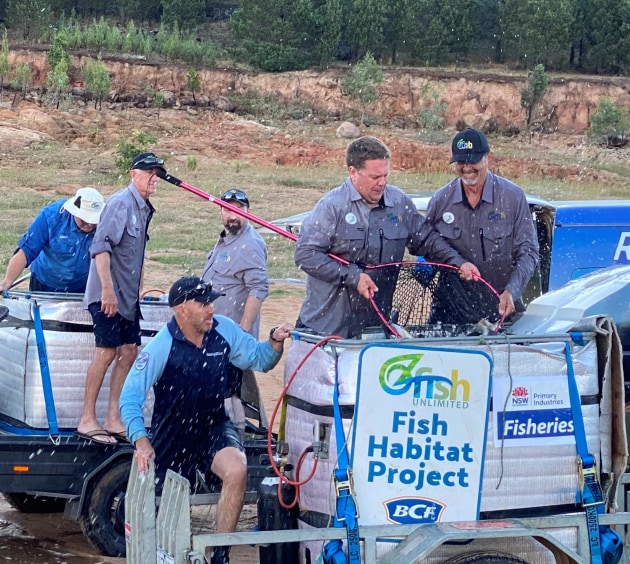 OVER 170 native Murray cod, golden perch and silver perch are now swimming safely in the waters of Wyangala Dam after an intensive fish rescue operation.
Volunteers from Inland Waterways OzFish were urgently called in to assist NSW DPI Fisheries with the relocation effort, enacted under a DPI rescue and relocation permit, after the native fish inadvertently found themselves in a precarious position and in need of a helping hand to ensure their survival with summer fast approaching.
The operation follows numerous large-scale efforts to rescue native fish from drought affected stretches of rivers in late 2019, where OzFish volunteers assembled specialist fish relocation pods and equipment under the guidance of expert NSW DPI Fisheries staff.
Five volunteers from Dubbo's Inland Waterways OzFish headed out to this latest rescue, where Murray cod up to around 110cm in length, along with scores of yellowbelly and threatened silver perch were saved.
"It was great to once again work alongside the DPI Fisheries team to get a good outcome for our native fish," Inland Waterways OzFish Chapter president Matt Hansen said.
"To see the team in the water, high fiving and cheering as those big Murray Cod were cradled to the relocation pods was an incredibly satisfying experience.
"We estimate that some of the bigger fish were of considerable age, and those fish don't just grow that big overnight, so to see them saved is a fantastic outcome.
"Our native fish have been through the drought from hell over the past few years, with shocking large scale fish kills in many parts of the Murray-Darling Basin, so to see another couple of hundred escorted to safer waters is something our OzFish volunteers will never forget.
To learn more about the project and get involved with OzFish around Australia, go to www.ozfish.org.au or call 1800 431 308.