LAST weekend some of the country's finest kayak anglers from Victoria, NSW and the ACT descended on the popular holiday town of Mallacoota in Victoria to compete in round 3 of the Hobie Kayak Bream Series presented by Daiwa.

While competing anglers were looking for the round win, they were also chasing points towards Angler of the Year (AOY), Rankings and, most importantly, the two spots on the Australian Hobie Fishing Team for the 5th Hobie Fishing World Championships to be held later in the year on Shang Lake in China.

On both mornings, the anglers headed off from the Power-Pole starting line, splitting in direction with half the field heading for Top Lake and The Narrows and the other half opting for Bottom Lake. It was those who worked Bottom Lake who seemed to bring the bigger bream to weigh-in each day.

More than half the field brought full bags of three bream to the tournament director each day and a total of 304 bream, weighing 207kg were presented to the weigh master over the course of the two days before being released back into the system.

Day 1 leader and eventual tournament winner Tony Pettie from Traralgon in Victoria had a solid three bream bag for 2.86kg going into the second day of the tournament.

Tony Pettie held on to the number 1 position on the Lowrance Leaderboard, netting the first place on the Aussie team for the Worlds in China, a qualifying position in the Australian Championship, as well as an excellent sponsor prize pack and a $2,245 cheque for his efforts. Tony also took home an additional $100 for landing the Hog's Breath Café BOSS HOG Big Bream with his 1.24kg bag kicker from day 1.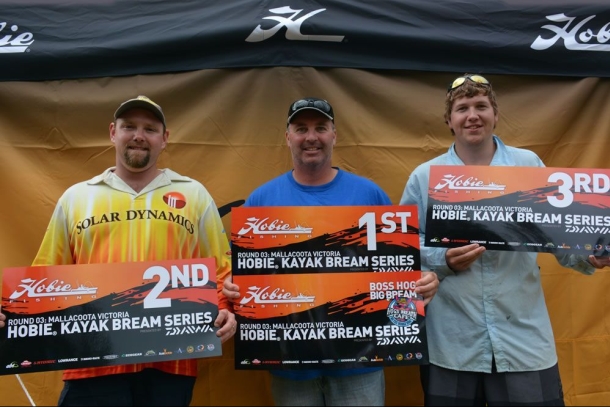 Ben Phayer from Victoria followed up a 1.94kg three bream bag on day 1, with an impressive day 2 bag of 3.18kg for an accumulated six fish weight of 5.12kg. This was short of the top prize by .95kg, but enough to give him a 200 gram lead over third place finisher, Joshua Smith also from Victoria.

Pettie summed up his feelings on being the first to make the squad to represent Australia at the Hobie Fishing World Championship in China this November.
"I had a really good couple of days, loads of fun and winning a spot on the Australian team is just awesome. I just have to let the wife know now".

More at hobiefishing.com.au