Proposed mouse plague poison may affect native fish
CONCERNS have been raised that animals including native fish species such as Murray cod will be poisoned if bromadiolone is approved for use in NSW as a mouse poison.
The NSW government is seeking approval from the Australian Pesticides and Veterinary Medicines Authority (APVMA) to distribute 10,000 litres of bromadiolone in an attempt to end the mouse plague – now in its eighth month and not showing any sign of slowing down.
There are fears that the poison will enter the food chain poisoning fish, livestock, birds, reptiles, other wildlife, working dogs and pets.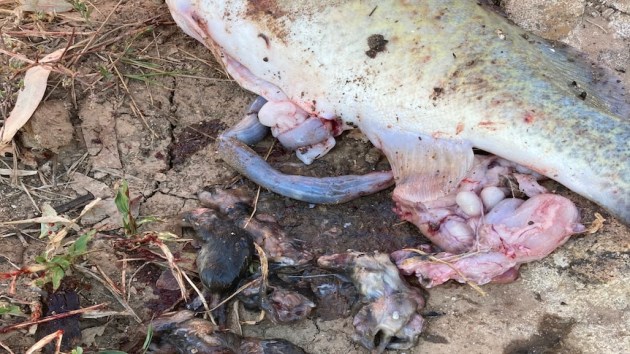 Bromadiolone is banned on farms because of the risk it poses to other animals. In the USA, bromadiolone can only be used by registered pest controllers because of the risks to "off-target" animals.
Bromadiolone works by blocking the production of vitamin K which is essential for blood clotting; the poison eventually causes the mice to bleed out.
Michael Lohr from Edith Cowan University said bromadiolone had been given emergency approval in previous mouse plagues in New South Wales but was outlawed in most countries around the world for use in agriculture.
"There's only one instance that I'm aware of where it's used in agriculture and that's in Indonesian palm oil plantations," he said.
Lohr said the problem with bromadiolone was that it didn't break down after the mouse was killed and could cause problems with anything that consumed dead mice.
NSW Agriculture Minister Adam Marshall has referred to bromadiolone as the "equivalent of napalming mice" and that more than 400 farmers had registered to use bromadiolone if it is approved.
Mel Gray from Healthy Rivers Dubbo took another view: she said Mr Marshall's plan was extremely concerning.
"Well, is he prepared to napalm Murray cod? Because that's what will happen. If this poison is put out into the environment you might as well be directly poisoning threatened and vulnerable species like Murray cod, which is a vulnerable species under federal legislation."
NSW Farmers is also campaigning against the use of bromadiolone — it says it never requested the use of the poison and had been calling on the government to provide rebates of up to $25,000 per farmer to purchase zinc phosphide.
When announcing the package, Agriculture Minister Adam Marshall said farmers would be able to get grain treated with poison "absolutely free of charge" to help combat the rodents.
Marshall has conceded that the use of bromadiolone would likely result in the deaths of other animals.
"There is going to be a cost to this for some other animals but it's something that's been factored in and we just have to take this step."
Nature Conservation Council Chief Executive Officer Chris Gambian said "We all sympathise with communities battling this mouse plague, communities that have only recently emerged from years of drought.
"The last thing anybody wants is to make a bad situation worse by using chemicals that will poison wildlife food chains and potentially kill farm animals like working dogs and house cats. We must also ensure that native eagles, owls and reptiles don't become collateral damage in the urgent battle to save crops and grain stores from this plague.
"We urge the NSW Government to use safer alternatives to bromadiolone, including warfarin and coumatetralyl for home use and coumatetralyl and zinc phosphide for crops."
Sources: ABC News, Recreational Fishing Alliance of NSW