Ram Trucks unveils 1500 Express and Laramie in Australia
RAM officially launched its range of 1500 Laramie and Express trucks today at a media event in Sydney.
With a 4500kg towing capacity and a long list of tow-friendly features, the 1500 will be a popular choice for Aussie boat owners and fishos looking for a quality, specc'd-up vehicle. Some of the towing features include trailer Brake Control, Trailer Sway Control, and Ready Alert Braking.
The 1500's 5.7 litre Hemi V8 puts out 291 kW and provides boaters impressive torque for towing. The Hemi V8, according to Ram, also provides excellent fuel economy with a combined fuel usage of 9.9L/100km.
The launch of the 1500 into the Australian market will see Ram Trucks go head-to-head with a lengthy list of popular dual cab utes, but in a larger, more powerful package.
The 1500 shares many of its features and characteristics with its larger sibling, the 2500, in a shorter, lighter, and lighter vehicle. Yet, despite the impressive specs, Ram Trucks says the 1500 will be priced from $79, 950 driveway for the Express model, and $99,950 plus inroads for the top-end Laramie.
Just like its larger siblings, the 2500 and 3500, Ram Trucks sold in Australia are built for the local market and are "remanufactures" from left to right-hand drive at its facility on Melbourne.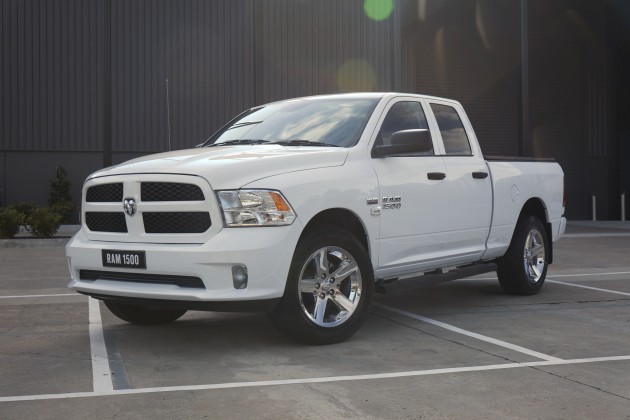 "The RAM 1500 is built and equipped to meet the changing demands of the Australian Ute buyer who are demanding more towing capacity, more space inside and out, and better performance," says Alex Stewart, General Manager of RAM Trucks Australia.
"With a maximum towing capacity of up to 4.5 tonnes, it is a clear full tonne ahead of its rivals and with the legendary Hemi V8 under the bonnet, it has both power and a chassis designed by the world leading experts to safely tow that extra weight. The RAM 1500 has a choice of two cab sizes, both which offer a level of space, and therefore comfort, of which other lesser utes may only dream."
"The space story continues with the tub, again two sizes, with the largest six feet four inches long or nearly two metres long and more than 1.2 metres wide between the wheel arches. Then there are the features that other Utes simply can't offer such as a choice of axle ratios and the unique and uniquely useful RamBoxes, two 240 litre lockers on either side of the tub that may be used as secure storage or as a pair of ice-filled cool boxes," says Stewart.
At 5.8 metres long and a little over two metres wide, the RAM 1500 is significantly larger than other utes in its market sector and this translates into more space inside and outside and a much larger towing capacity. The RAM 1500 is offered with a choice of two cab sizes, the Express with the Quad Cab and the Laramie with the Crew Cab. Although the Quad is the smaller of the two, an interior volume of 3.3 cubic metres still places it ahead of majority of conventional Utes, while impressive levels shoulder and hip room make it a comfortable place to be, front or back. The Laramie has a full crew cab with 3.5 cubic metres of interior space with a rear seat leg room length of more than a metre, it is as spacious in the back as the front.
The different cab sizes are not the only things that separate the RAM 1500 Express and the RAM 1500 Laramie. Each is styled, tailored and equipped to meet the very different needs and desires of their prospective owners. The 1500 Express with its colour matched grille, bumpers and trim is clearly the sporty member of the family, something that can be enhanced further with the Black Pack which, as the name suggests, turns everything to black. Sporty doesn't mean basic, or stripped, as the leather lined dashboard attests, along with its comprehensive equipment list.
Meanwhile the RAM Laramie with its traditional RAM chrome grille and tasteful use of chrome highlights clearly indicates its intent to offer a unique blend of total luxury with a hard-working ethos of all-round capability. From its heated and cool ventilated front seats, its heated steering wheel and rear seats to its use of leather, deep pile carpeting and an equipment list that puts some luxury cars to shame, the RAM 1500 Laramie has it all.