Recfish SA calls for ban on commercial take of spawning kingfish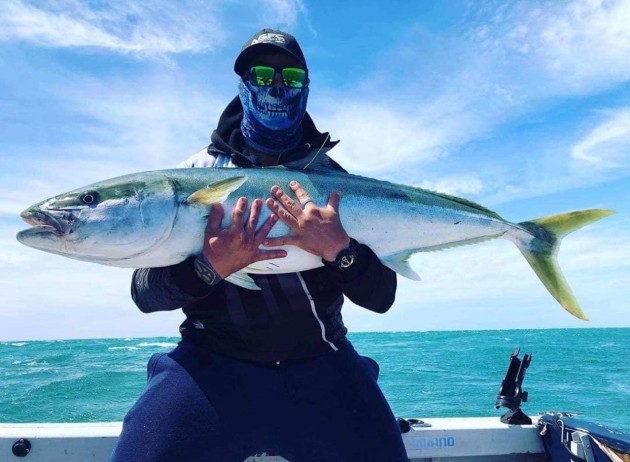 ACCORDING to a Facebook post from Recfish SA, recreational fishers are outraged by commercial fishers targeting spawning aggregations of yellowtail kingfish in the Upper Spencer Gulf and have called for the state government to bring an immediate end to the practice.
RecFish SA, South Australia's peak body for recreational fishing, says it has received numerous reports from irate recreational fishers in the region who have observed commercial fishers using drones to round up and gaff schools of large kingfish migrating to their spawning grounds. Recfish SA estimates that up to two tonnes of spawning yellowtail kingfish has been delivered to fish markets.
Each spring, hundreds of recreational fishers visit the Upper Spencer Gulf region to fish for the highly-prized yellowtail kingfish, which is reportedly selling for very low prices in local fish markets.
Mick Wilson, chair of RecFish SA, is concerned that this practice is clearly unsustainable and will decimate breeding kingfish populations and destroy a very valuable recreational fishery. It's ridiculous that this magnificent sportfish which supports a multi-million dollar recreational fishery, is being slaughtered by commercial fishers.
Alan Hall, RecFish SA member and delegate for the Upper Spencer Gulf said, "This is an outrageous practice and must be stopped immediately. South Australians are being encouraged to visit regional areas during Covid and support local economies but then they allow one of our best recreational fisheries to be destroyed. The yellowtail kingfish run in the Upper Spencer Gulf is nationally recognised and attracts visitors from all over Australia. If the government doesn't stop the slaughter, we'll lose this fishery as well."
Mick Wilson said while RecFish SA applauds Minister Basham's commitment to reforming the Minister's Recreational Fishing Advisory Council (MRFAC), where this issue would be referred for discussion, the urgency to address this issue requires immediate action.
More to follow.