River Repair Bus gets new lease of life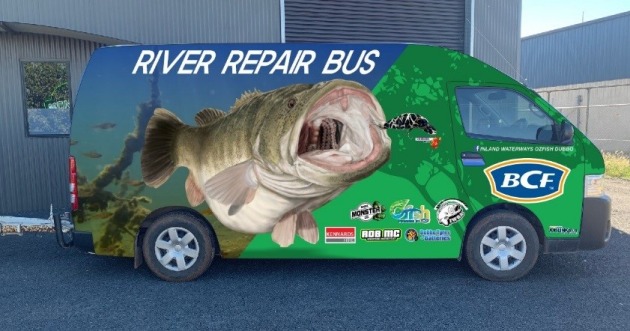 THE Inland Waterways OzFish River Repair Bus is set to deliver more outcomes for the Macquarie River in NSW, with some major funding from BCF's Give Back to Habitat Initiative.
Matt Hansen, OzFish Director and President of the Inland Waterways OzFish group, said "the new funding from BCF has allowed us to plan a big future for the bus, and for the river."
The bus and its team have so far planted and maintained over 7,000 trees and carried out weed eradication and erosion control along 40 km of the Macquarie River. The team has also removed over 180 trailer loads of rubbish containing mattresses, old tyres, shopping trollies, syringes, cars, fast food packaging and general waste.
The bus uses paid technical staff to plan and carry out the habitat work, as well as training Work for the Dole participants, many of which have moved back into paid employment after a stint on the Bus.
Matt Hansen said "I get excited when I see young people engaged with restoring the environment, making a real difference and then going on to get employed"
It's also a real credit to our head supervisor of the bus, David Harris, who has been integral in executing the on-ground works so far. "
The River Repair Bus was purchased with proceeds raised at the Lake Burrendong Easter Fishing Classic with its running supported by BCF and, the hundreds of sponsors behind the not for profit fundraising powerhouse group.
Shane Glynn Dubbo BCF Manager said "This is one of many positive environmental campaigns BCF has committed to delivering in partnership with OzFish Unlimited. Not only do better habitats deliver better fishing, but we believe it delivers better environmental outcomes for all Australians.
For more information, or to support OzFish in their continued work to protect and restore fish habitat across Australia, click HERE, or make a donation in store at any BCF across Australia via the Give Back to Habitat Initiative.