Seafood festival helps restore Moreton Bay shellfish reefs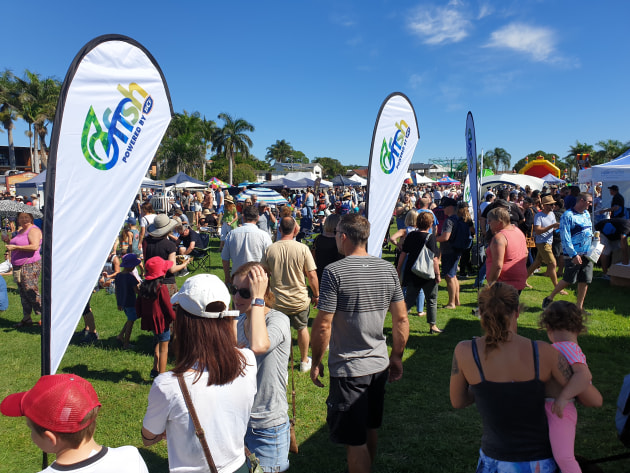 THE Wynnum Seafood Festival and OzFish Wynnum Fishing Classic wrapped up this week after huge crowds attended over the weekend. With a wide variety of seafood providers and other food stalls as well as entertainment, over 30,000 people flocked to the Wynnum foreshore.
The event was the brainchild of Robbie Porter, Moreton Bay Chapter President, from OzFish Unlimited. Together with a band of volunteers, the event was set up to raise awareness and funds to help restore shellfish populations in Moreton Bay, and Robbie said it achieved that goal.
"All funds raised will help restore shellfish reefs in Moreton Bay and thousands of people came by our education tent to talk about what a restored bay would look like and why shellfish are so important" Robbie said.  
Scotty Hillier (from Creek to Coast) was there to present prizes for the Wynnum Fishing Classic said he was really pleased that events such as this put the focus on restoring our environment and knowing that money raised will support the OzFish Moreton Bay Shellfish Reef Project is a massive bonus.
The event featured a prawn peeling competition between the Hon. Ross Vasta MP the Federal Member for Bonner, State Member for Lytton, the Hon. Joan Pease MP, and Brisbane City Councillor Peter Cumming.
Joan Pease MP was the winner as Ross was first past the post but left some shell on his prawn! All the politicians were really pleased with the event and its focus on fixing Moreton Bay.
Robbie said "OzFish and our major partner BCF would like to extend a thank you to the many sponsors of this event, and to the team of hard-working volunteers for their support. Without them, this event would not have been possible. We look forward to seeing you all again next year!"