Six new mulloway recaptures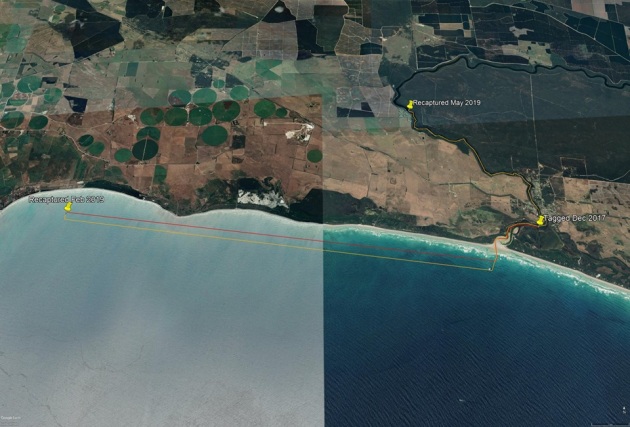 THE mulloway tagging program in Victoria has recorded six new recaptures.
According to a post by Lauren Brown on the Mulloway Tagging Victoria Facebook page, three of the recaptured fish were mulloway tagged off Browns Bay in South East SA (in summer to early autumn 2017/18), and recently recaptured in the Glenelg River. One fish was at liberty for 515 days, which is the longest period the group has recorded so far. These three recaptures indicate a seasonal trend for mulloway to move into the Glenelg River during late autumn
For the first time, a Mulloway has been recorded undergoing a 'round trip' from the Glenelg River to Browns Bay and back again. The fish was tagged in the Glenelg by Neil Humphries in December 2017 at 60 cm, then recaptured by Shane Murrell over a year later at Browns Bay when it measured 79 cm. At the start of the month, the fish was recaptured again in the Glenelg River near Donovans at 80 cm. This is exciting as it provides evidence of mulloway leaving the Glenelg to presumably breed out at sea during the summer months, then returning to the Glenelg in autumn. Great work to all anglers!
On the weekend, George Gabriel was lucky enough to catch a Mulloway he'd tagged in the Yarra River almost exactly one year ago! The fish was tagged at 104 cm on 22 May 2018, and recaptured only 1.5 km away, measuring 106 cm. This is obviously very minimal growth, so it's likely the fish was of an older age (since growth slows down considerably in the older life stages).