Swordfish satellite tag resurfaces
THE Great Swordfish Race Project's first satellite tag, deployed by Chris Cleaver and Ryan Camlin on a swordfish off Sydney in April has resurfaced.
The satellite tag has provided interesting data on the fish's migration patterns, as shown in the video below.
After tagging, the fish headed south towards the south east corner of Australia before meandering eastward and then heading on a more northerly course. Interestingly, Dr. Sean Tracey of the Institute for Marine and Antarctic Studies (IMAS) has revealed the tagged fish followed a similar path to others tagged off Victoria and Tasmania.
The depth and temperature data in the image below shows that the 30kg swordfish carried out the normal diurnal pattern of diving deep during the day (around 400- 600m+) and rising near to the surface at night. This activity is typical of swordfish and is likely linked to the movement of bait throughout the water column.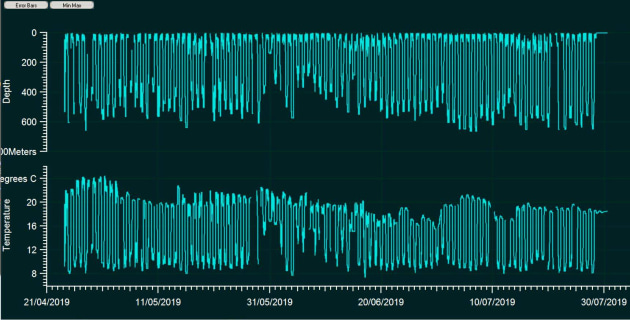 The Great Swordfish Race Project aims to provide data on the exciting new recreational swordfish fishery, including information on the timing and availability of swordfish in Eastern Australian waters, whether swords return to the same grounds seasonally and their suitability for catch and release.
NSW DPI Fisheries is undertaking the project with the Australian National Sportfishing Association (NSW) and the NSW Game Fishing Association. A small team of NSW-based game and sportfishing swordfish experts will be provided with satellite tags to enable the collection of data.
Data from this project will be used as part of a larger swordfish project being undertaken by Dr Sean Tracey of IMAS in Hobart, with similar objectives completed in Tasmania and currently underway in Victoria.
Head to the Great Swordfish Race Project website or the NSW DPI Fisheries website for more information.