"The First Marlin": A pioneering game fishing documentary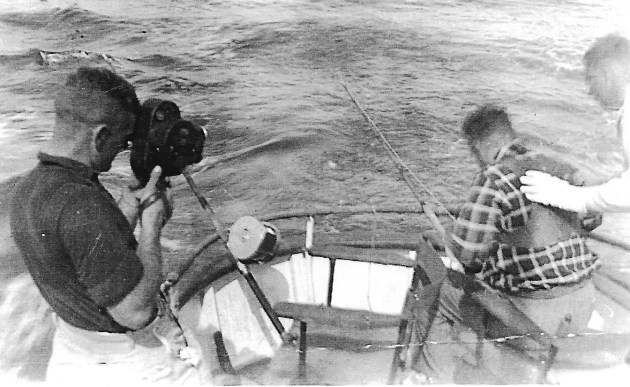 AUSTRALIA'S first official game fishing Club, the Swordfish and Tunny Club (STC), has made a documentary film about the rise of game fishing here in Australia. Titled 'The First Marlin,' the production focusses on the Club's first swordfish capture in 1934 by Reg Lyne and an unknown film he helped make that captured it all and is now turning heads aboard. 
This 1934 film, discussed heavily in the documentary, has been recognised by the IGFA as holding the earliest recorded vision of a swordfish capture in the world, making it highly valuable, and formed the basis for the STC to make the production. STC Vice President, Scott Gowland, who has played producer and writer for the film noted that "when the film came to us via the National Sound and Film Archive the Club didn't really understand its significance or importance or that it existed. It wasn't until we delved more deeply and did some research on it we realised that we had something very special in our possession." 
Ironically the film was shot by a group of intrepid big game anglers as part of an expedition to test potential fishing grounds near the port of Bermagui on the New South Wales South-east coast. During this trip, the group founded the STC and from this started the game fishing movement in Australia. 
"We were astounded to learn our Club's formation was in fact documented by this film," Scott acknowledges.
Sprinkled with a bevy of well known fishing industry identifies, including STC Club members Jim Allen (Former Compleat Angler Tackle Stores Owner), Vic Teasdale (film enthusiast), Tim Simpson (BlueWater Boats and Game fishing Magazine owner and Editor-in-Chief) and game fishing historian John McIntyre, the film's cast delights viewers in dissecting parts of this ground breaking 1934 film and sheds light on the old style tackle, game fishing pioneers and film equipment used and seen in the production. From Reg Lyne to Zane Grey, Bill Southam Rods to Super Marlin reels, Kodak film to Paillard Bolex cameras, no stone is left unturned as the film dutifully explores the origins of Australian game fishing, making it a must see for historians and anglers alike.
For those lucky enough to live in Melbourne, they can secure a seat at the documentary's "world premiere" and be amongst the very few to see rare footage of how game fishing was done and captured on film back in 1930s. As a bonus to the screening, the film's premiere presentation will be followed with a question and answer session, where you can openly chat and discuss the film with the cast, producers and director.
The First Marlin will be shown at Yarraville's  Sun Theatre on Thursday May 30 at 9.00 pm. Tickets are on sale through Eventbrite HERE. The Club is hopeful of scheduling more screenings around Australia before is becomes available online and on DVD.