The Great Swordfish Race: Satellite tag deployed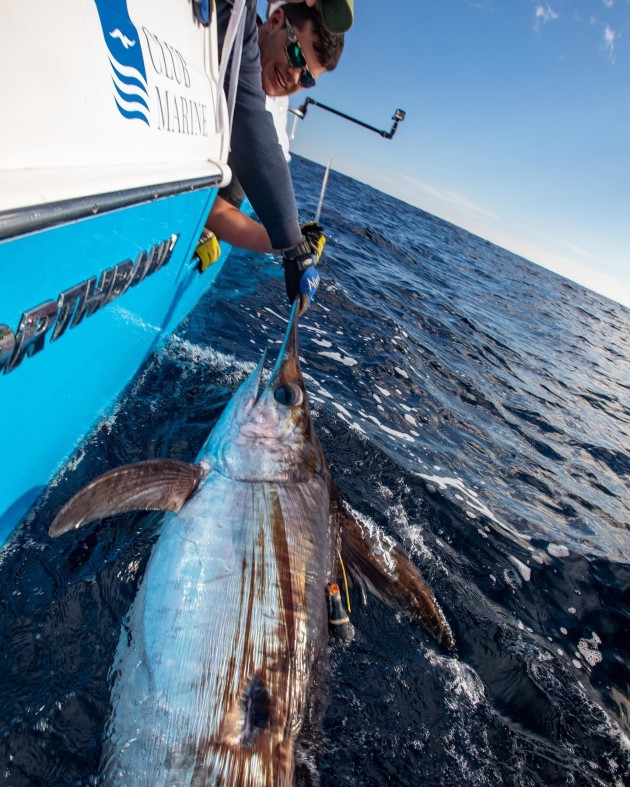 ON 8 July, Al McGlashan deployed a pop-up satellite archival tag (PSAT) into a swordfish of approximately 90kg whilst fishing at the productive fishing grounds off Mallacoota, Victoria. Al and his son Cooper McGlashan had spent a few days fishing the area and had released a small swordfish and kept a fish of 250kg.
This was the third to their boat and they made the call to tag the fish based on the opportunity available. McGlashan said the fish was in excellent condition when boat side, making it a great candidate for tagging. Though the NSW PSAT was deployed in Victorian waters, the fish are recognised to be from the same stock.
NSW DPI says tagging provides valuable data on this exciting new recreational fishery, including information on the timing and availability of swordfish in NSW, whether swordfish tend to return back to the same grounds seasonally and their suitability for catch and release. DPI is undertaking the swordfish PSAT project in collaboration with the Australian National Sportfishing Association (NSW) and NSW Game Fishing Association. The data from this project will also be used as part of a larger project being undertaken by Dr Sean Tracey, Institute for Marine and Antarctic Studies (IMAS), with similar objectives completed in Tasmania and currently underway in Victoria (both supported by funds from the Fisheries Research and Development Corporation and a Victorian Recreational Fishing Grant).
PSATs are used to track the movement of marine animals, particularly highly migratory species such as sharks, tuna and billfish. The tags are like mini computers that are externally attached to the fish and travel along with the fish whilst logging information on water depth, light levels and temperature, and gathering information on its location (geolocation).
NSW DPI says, this allows us to gain a greater understanding of the behaviour of the fish, their migratory patterns and catch and release survival. The great benefit of satellite tags is that they do not have to be retrieved to collect the recorded information. After a predetermined time (twelve months) the tag decouples from the fish and "pops-off", floating to the surface. The tag then transmits the data that it has stored whilst it has been underwater to orbiting satellites that pass overhead. This data is then relayed back to DPI.
Stay tuned for exciting insights from this tag.
For more information on The Great Swordfish Race, head to: www.dpi.nsw.gov.au